Mr. Xie is the boss of an electroacoustic fittings and hardware galvanizing factory in Suzhou, Jiangsu Province.Recently, Mr. Xie found the acid zinc plating additive used in the production process, and the stability of the plating solution is relatively poor. When the workpiece is passivated with color zinc, the adhesion of the coating is poor and the film is easy to fall off.This leads to poor production efficiency and high production costs.Therefore, Mr. Xie is eager to change a better acid zinc plating additive.
One day, when searching on the Internet, Mr. Xie saw Bigolly's acid zinc plating additive BZ-525, and asked about the operating parameters and performance characteristics of this additive.After understanding the production situation of Mr. Xie, the engineer introduced to Mr. Xie:Some acid zinc plating additives on the market are relatively backward in technical formula, and some components of the additives are volatile in the use process, resulting in a large consumption of additives.In this way, the plating solution is unstable during the production process, and the binding force of the zinc coating on the workpiece is poor, which is easy to be oxidized and peeled off.
The new acid zinc plating additive BZ-525 is prepared by adopting the new R&D technology of Bigley and the environmental protection raw materials imported from BASF Germany and Dow Chemical of the United States.In this way, the workpiece can easily obtain a compact and uniform zinc coating with good brightness, and the internal stress of the coating is small.The deposition speed of the coating is fast, which can shorten the electroplating time, thus increasing the production.The plating solution has strong impurity resistance, good stability, low failure rate, and simple management and maintenance.In addition, the concentration of this additive is high, the components are stable, and it is not easy to volatilize, so the consumption in the production process is low, and the consumption is small, thus reducing the production cost.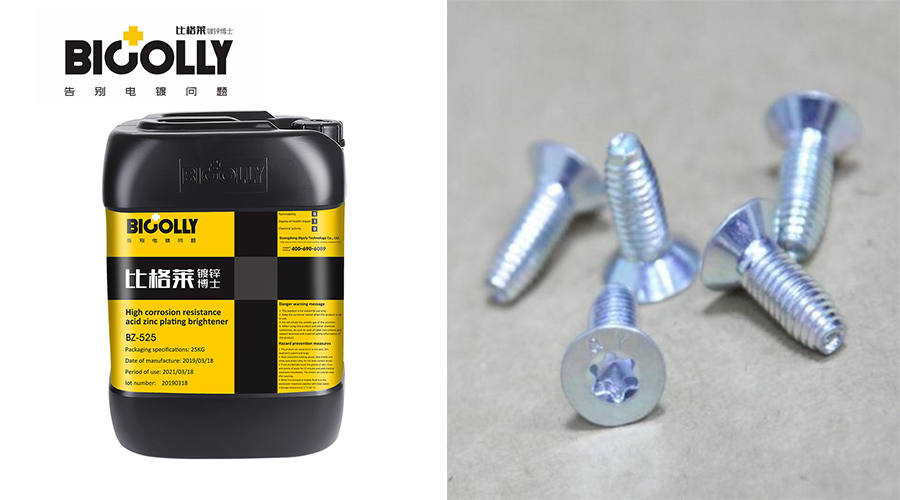 Mr. Xie was very interested in this acid zinc plating additive, so he bought two barrels for trial.After half a month of trial use, Mr. Xie found that the stability of the plating solution was really good, and the adhesion of the workpiece after passivation was also very good, without the phenomenon of film removal;Moreover, the brightness, flatness and corrosion resistance of the workpiece coating are much better, which can meet the requirements for galvanization of his electroacoustic accessories and hardware.In this way, Mr. Xie signed a long-term cooperative purchase and sales contract with Bigolly.
Therefore, if our acid zinc plating solution has poor stability in the production process and the passive film is easy to fall off, try this acid zinc plating additive BZ-525 immediately.If you are interested in acid zinc plating additives, please contact the Bigolly customer service for free samples and detailed technical information!