| | |
| --- | --- |
| Product name: Brightener for acid zinc plating | Packing specification: 25kg/barrel |
| Product appearance: Colorless to amber liquid | Smell: Mild |
| Specific gravity: 1.01-1.07 | Solubility in water: All dissolved |
| Storage: ventilated and dry place | Shelf life: 2 years |
---
Instructions for use
| | |
| --- | --- |
| Zinc chloride | 30-80g/L |
| Potassium chloride | 180-270g/L |
| Boric acid | 25-35g/L |
| BZ-525A acidic zinc plating softener | 35-45ml/L |
| BZ-525B Acidic zinc plating brightener | 1-2ml/L |
| PH value | 4.8-6.0 |
| Temperature | 20-40℃ |
| Cathode current density | 0.5-3.5A/dm² |
---
Product features

Low foam and low COD

Water-based formula,a new generation of environmentally friendly products that meet the high requirements of wastewater discharge standards,effectively reducing wastewater treatment costs.

Excellent dispersion

ability and deep plating

Ability

The intermediates imported from BASF, Germany are used to formulate good salt resistance,and can tolerate the content of potassium chloride in the plating solution up to 270 g/L,Suitable for deep hole workpiece barrel zinc acid plating and complex shape,large area workpiece

hanging zinc acid plating.

Excellent corrosion

Resistance

The crystal of the zinc layer is fine,

compact,smooth and low in porosity,

and its corrosion resistance is comparable to that of alkali zinc.It is suitable for automotive parts and precision hardware parts that require decorative and

corrosion resistance.

Bright white coating,

good decoration

Adopting the core technology independently developed by Bigely,

the coating is white and bright,with good fullness,and the mirror gloss

can be obtained to meet the

decorative requirements of the top-grade hardware products.

Low organic

decomposition products

High stability of plating solution,not easy to aging,easy management and

low cost.
Superior resistance to

Impurities

High tolerance to iron impurities,

copper impurities,and lead impurities,

which can reduce the time of shutdown processing and the loss of chemical

raw materials.
Scope of application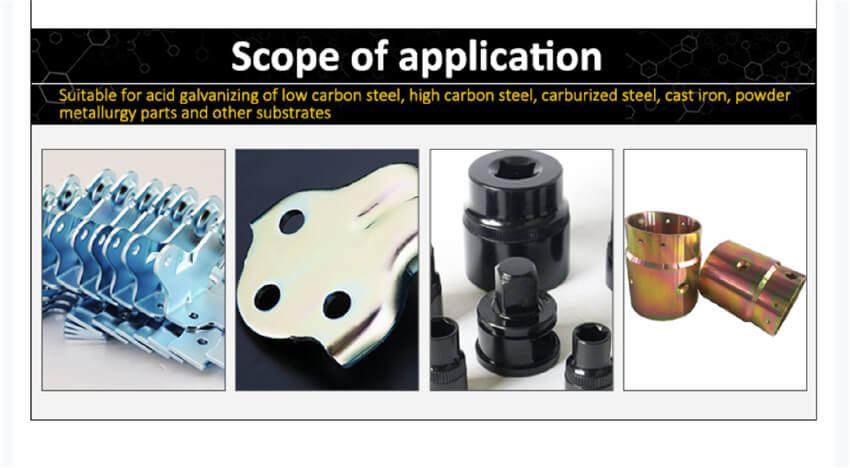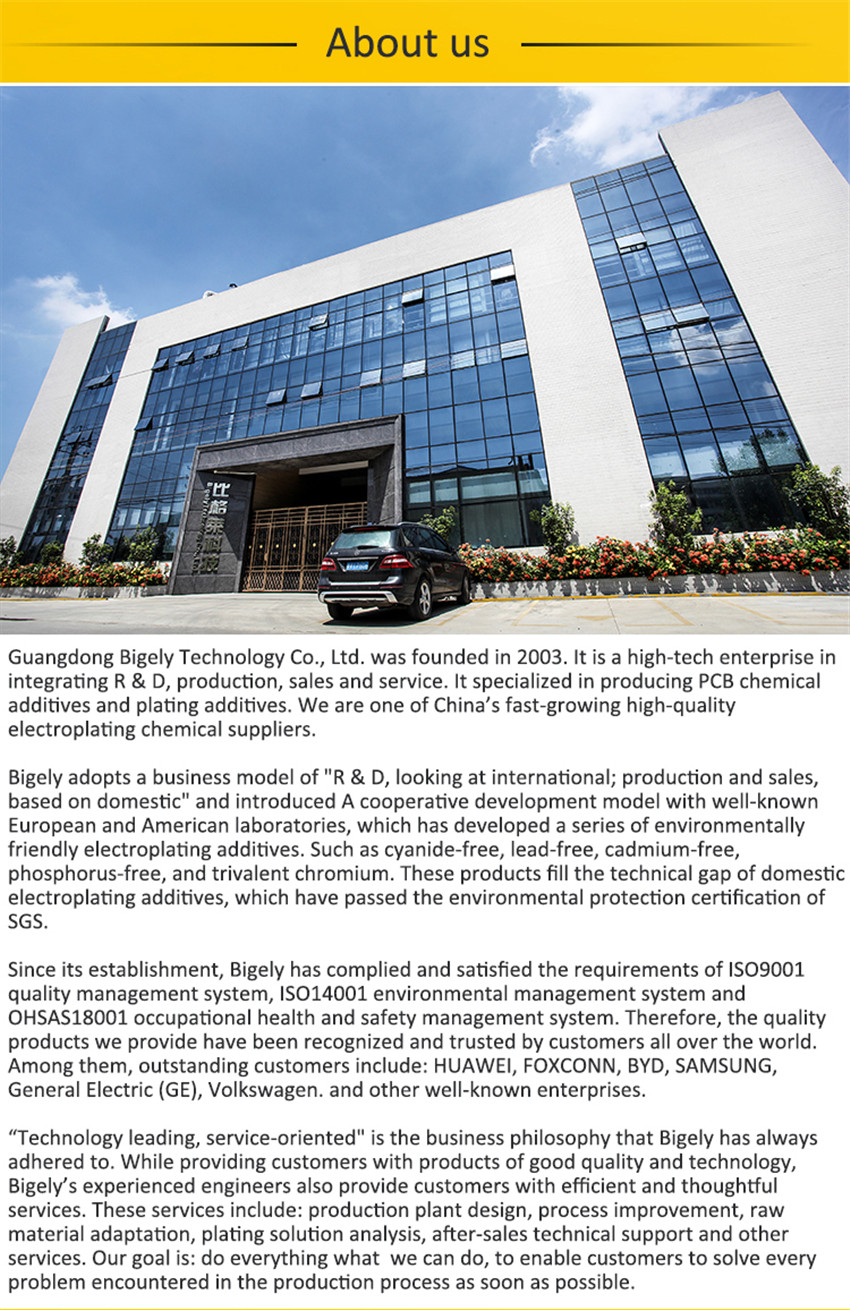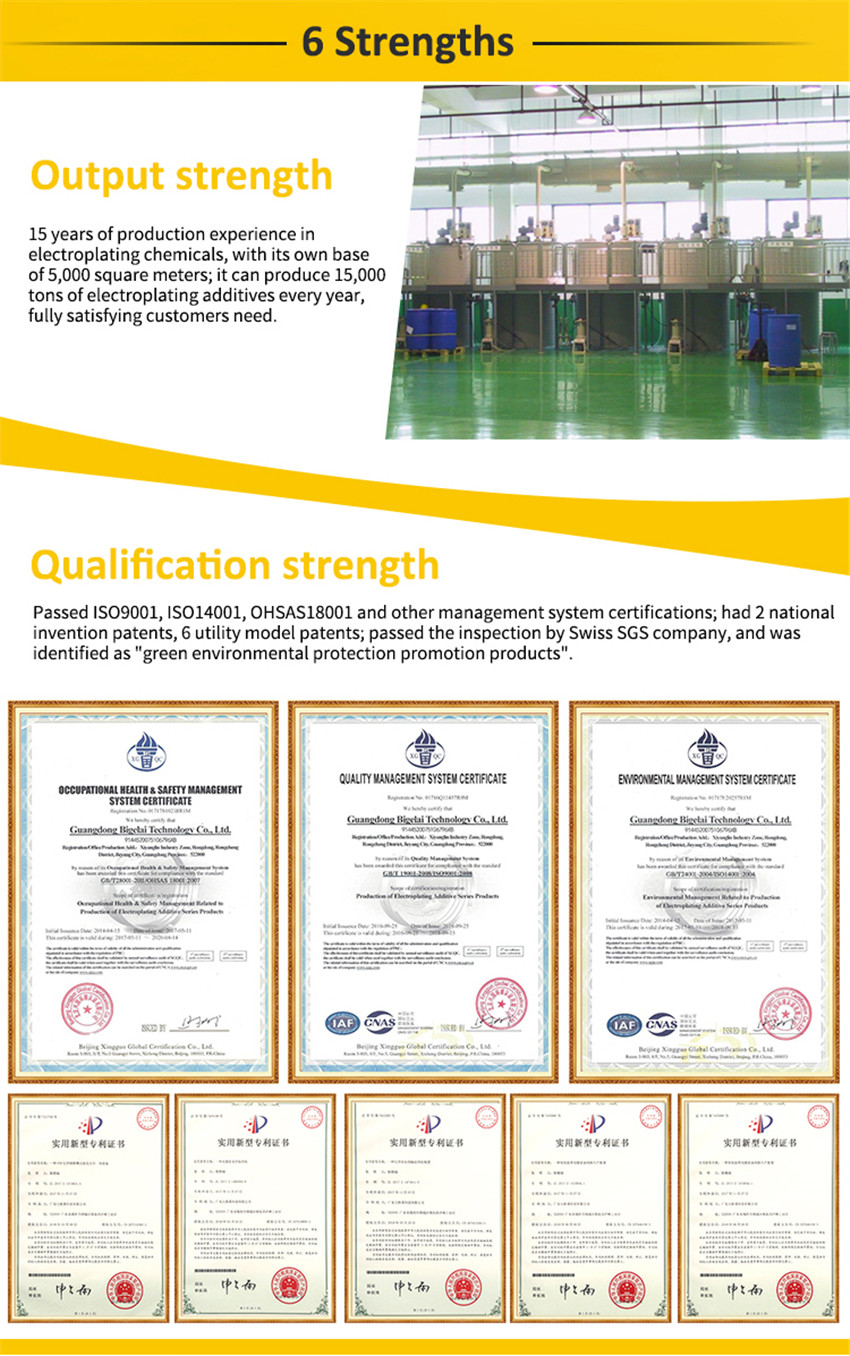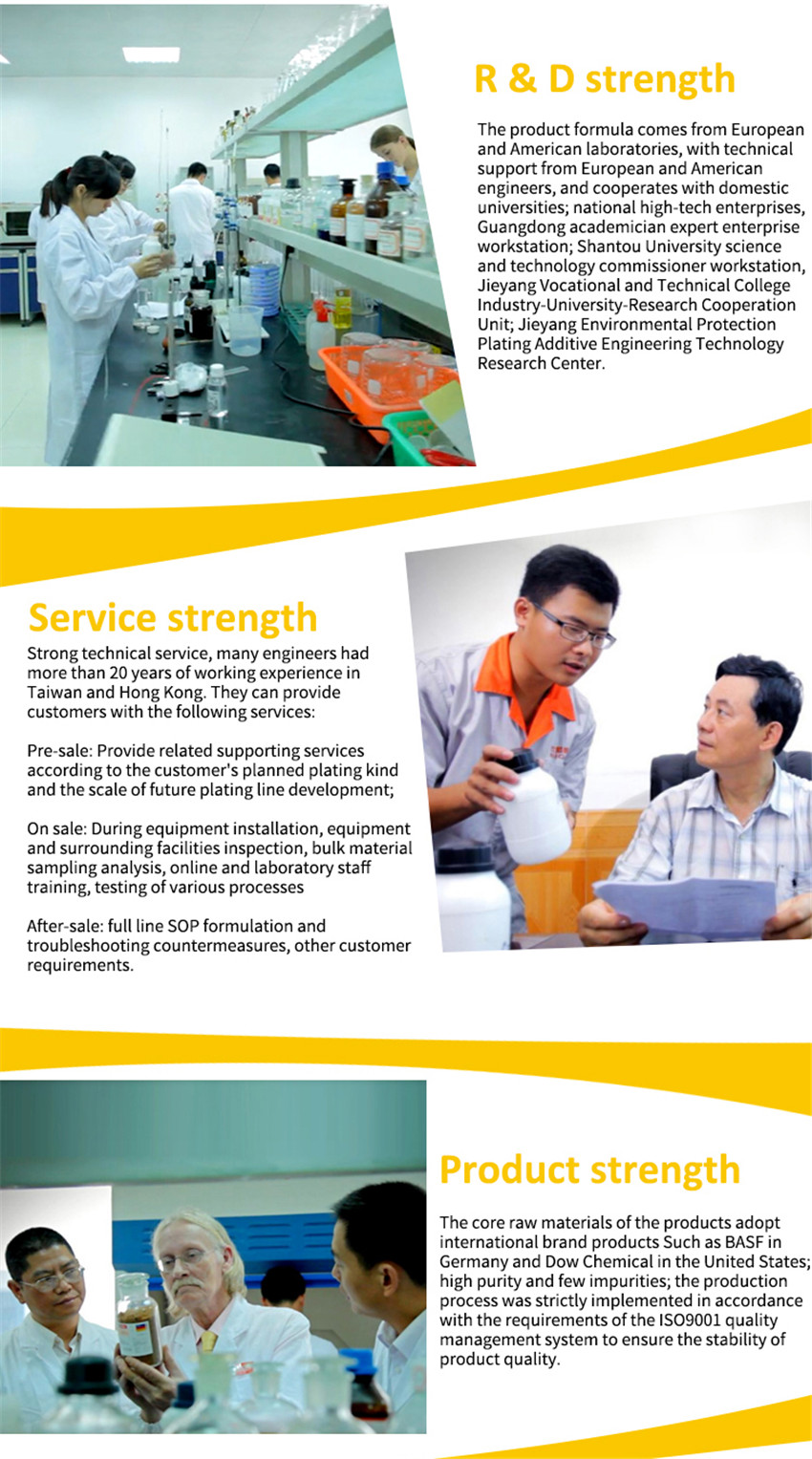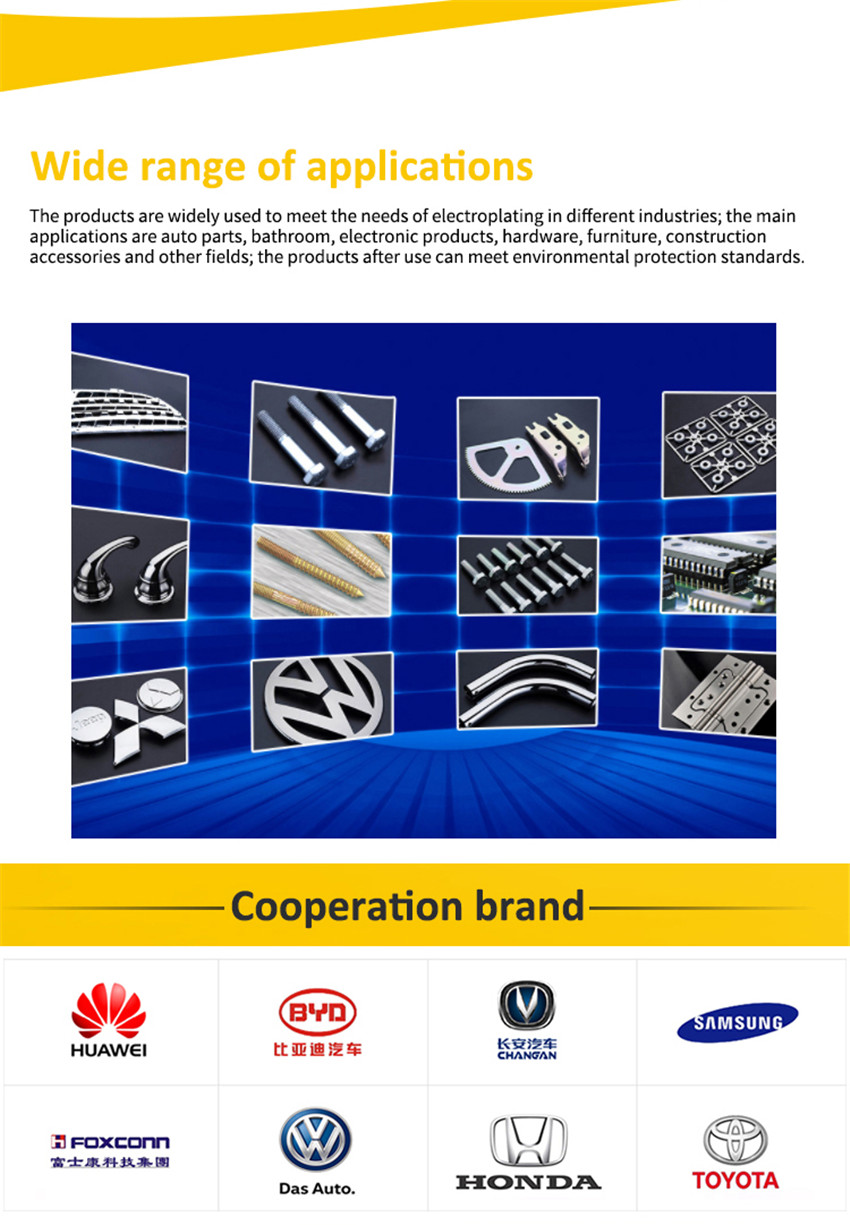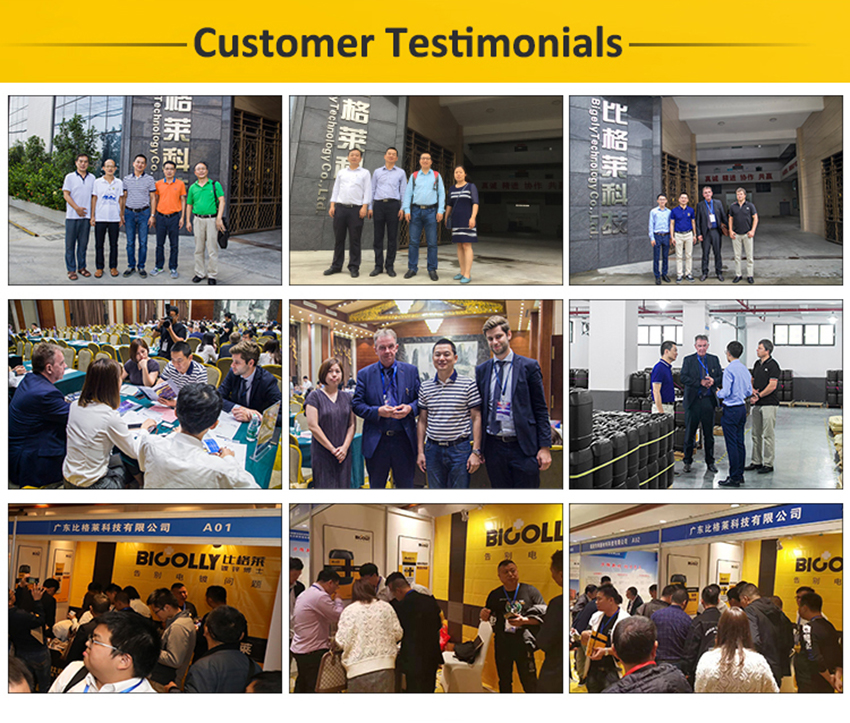 FAQ
1. Q: Do you make the products yourself? Are you a trader or a manufacturer?
A: Yes, the products are produced by our company. Our company is a manufacturer focusing on the R&D and manufacturing of environmental protection electroplating additives. Our factory has 5000 square meters with an annual capacity of 15000 tons.
2. Q: Can your company send samples for trial?
A: We can provide samples for trial.
3. Q: What is the quality of your products?
A: Our company all products core raw materials is used by Germany BASF, American Dow Chemical and other international brand products. The production process is strictly in accordance with the ISO9001 quality management system, from the incoming inspection, product inspection, according to the strict inspection standard, ensure that every drop of products qualified. Product quality you can rest assured, like BYD, Huawei, Foxconn such enterprises are also using our products.
4. Q: How long is the shelf life of your products?
A: The shelf life of our products is two years. If you do not use up the products within a short time after you buy them, we suggest you store them in a cool place, not in the sun or in a high temperature environment.
5. Q: Are your products environmentally safe?
A: Our products have passed the SGS test and are recognized as "Green and Environment-friendly Promotion Products". Many auto parts and electronic products which use our products can pass the strict environmental protection test when they are exported to Europe and America. Therefore, we can be trusted in terms of environmental protection and safety.
6. Q: Can your company provide technical services?
A: Yes, our company has a technical service team of more than 10 people. The technical engineers all have more than 20 years' experience in electroplating factory. They can provide customers with comprehensive technical of pre-sales and after sales.
7. Q: Is it possible to visit your company?
A: Yes, of course. You are very welcome! We can meet you at Jieyang airport, If you can come to our city. Also you can visit our factory through live video.
8. Q: Can you customize products according to our needs?
A: Yes, our company has research and development strength, the product formula derived from Europe and the United States laboratory, European and American engineers technical support, work together with domestic universities. Our company has a member of Guangdong province expert enterprise workstation, Shantou university science and technology correspondent workstation, Jieyang city environmental protection engineering research center for electroplating additive.Therefore, it can meet all kinds of customized requirements proposed by customers.