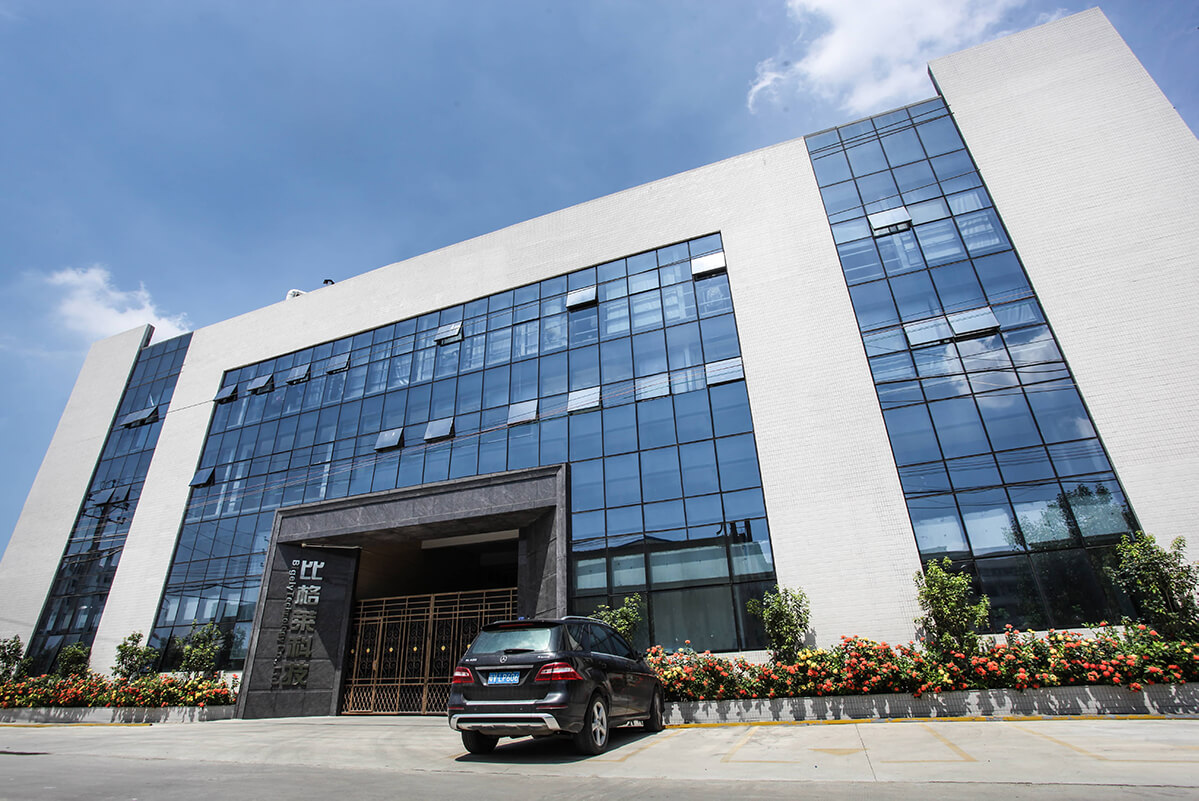 Guangdong Bigely Technology Co .,Ltd Was founded in 2003, is a provincial-level high-tech enterprises with independent innovation of intellectual property rights, to focus on is engaged in the surface treatment chemicals research and development, production, sales and services, is committed to providing customers with new products and solutions, system technical support and perfect service system, help customers to say goodbye to the plating problem and create value. The main business covers electroplating additives, PCB chemical additives, aluminum surface treatment agent.


Than he to "contribute to China electroplating enterprise's innovation and development" for the mission, through independent research and development is given priority to, the development of cooperative r&d is complementary of model, equipped with a Dr By academicians, and industry research team composed of senior engineers, set up industry leading r&d system, continue to develop new technologies, new products in the industry. Since its inception, than he has set up a member of guangdong province science and technology experts enterprise workstation, Marine research institute, Chinese Academy of Sciences national engineering research center for Marine corrosion and protection in manufacture-learning-research cooperation base, shantou university science and technology correspondent workstation, jieyang city environmental protection engineering technology research center, electroplating additive jieyang city enterprise technology center, jieyang vocational and technical college practice base, won the high and new technology enterprise of guangdong province, the contract heavy credit enterprise, guangdong electroplating industry association director unit, etc, many products have been identified as high-tech products, a number of technology has reached the forefront of the industry level, Has a number of invention patents and utility model patent technology, and through the ISO9001 quality management system, ISO14001 environmental management system OHSAS18001 occupational health and safety management system certification.
With excellent products and services to win the recognition and trust of customers at home and abroad, Bigelay service customers include: Huawei, Foxconn, BYD, Chang 'an Automobile, General Electric (GE), Jiumu Sanitary Ware and other enterprises.
6 Strengths
output strength
15 years of production experience in electroplating chemicals, with its own base of 5,000 square meters; it can produce 15,000 tons of electroplating additives every year, fully satisfying customers need.
Qualification strength
Passed IS09001, ISO014001, OHSAS18001 and other management system certifications; had 2 nationa nvention patents, 6 utility model patents; passed the inspection by Swiss SGS company, and was identified as "preen environmental orotection promotion products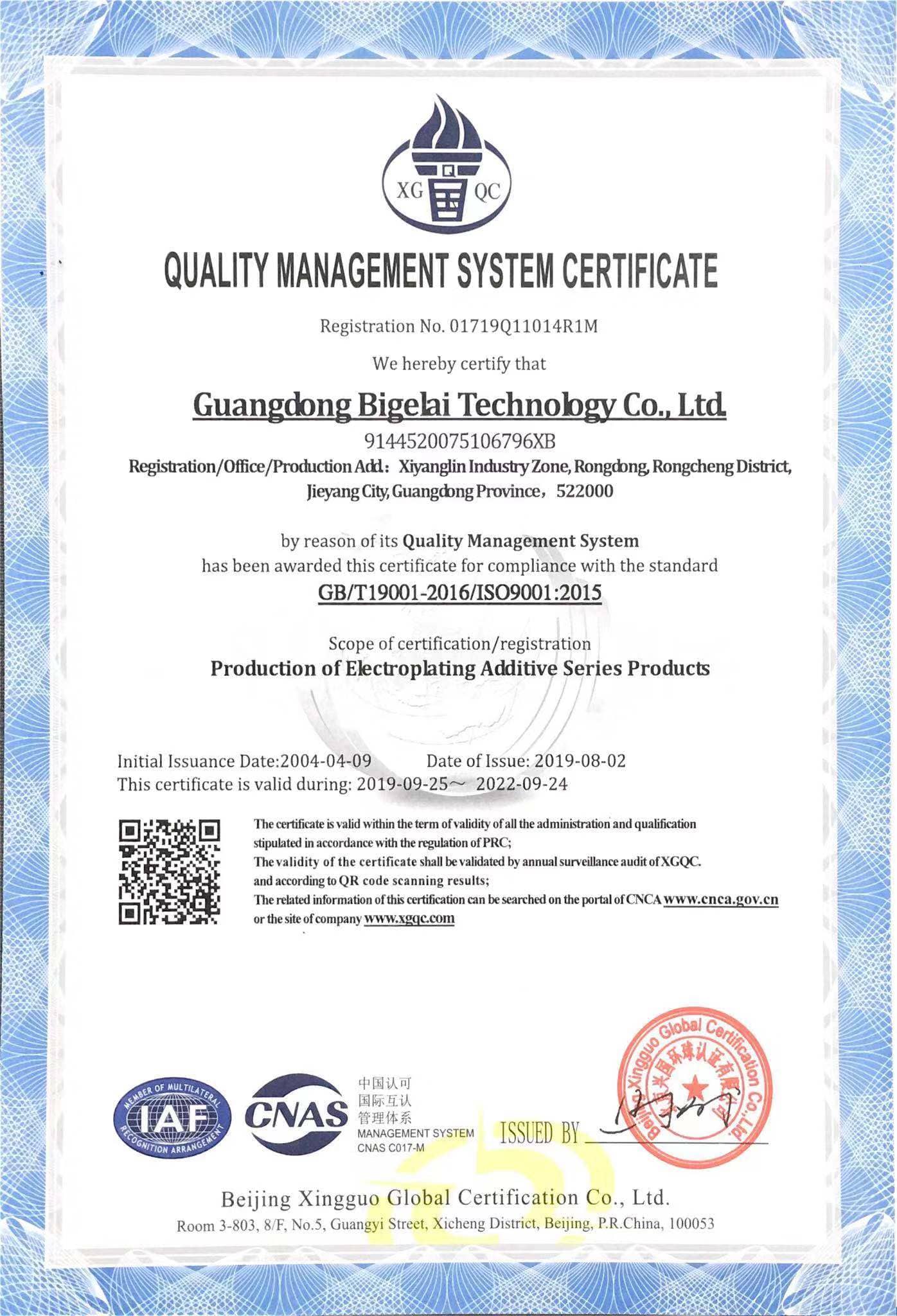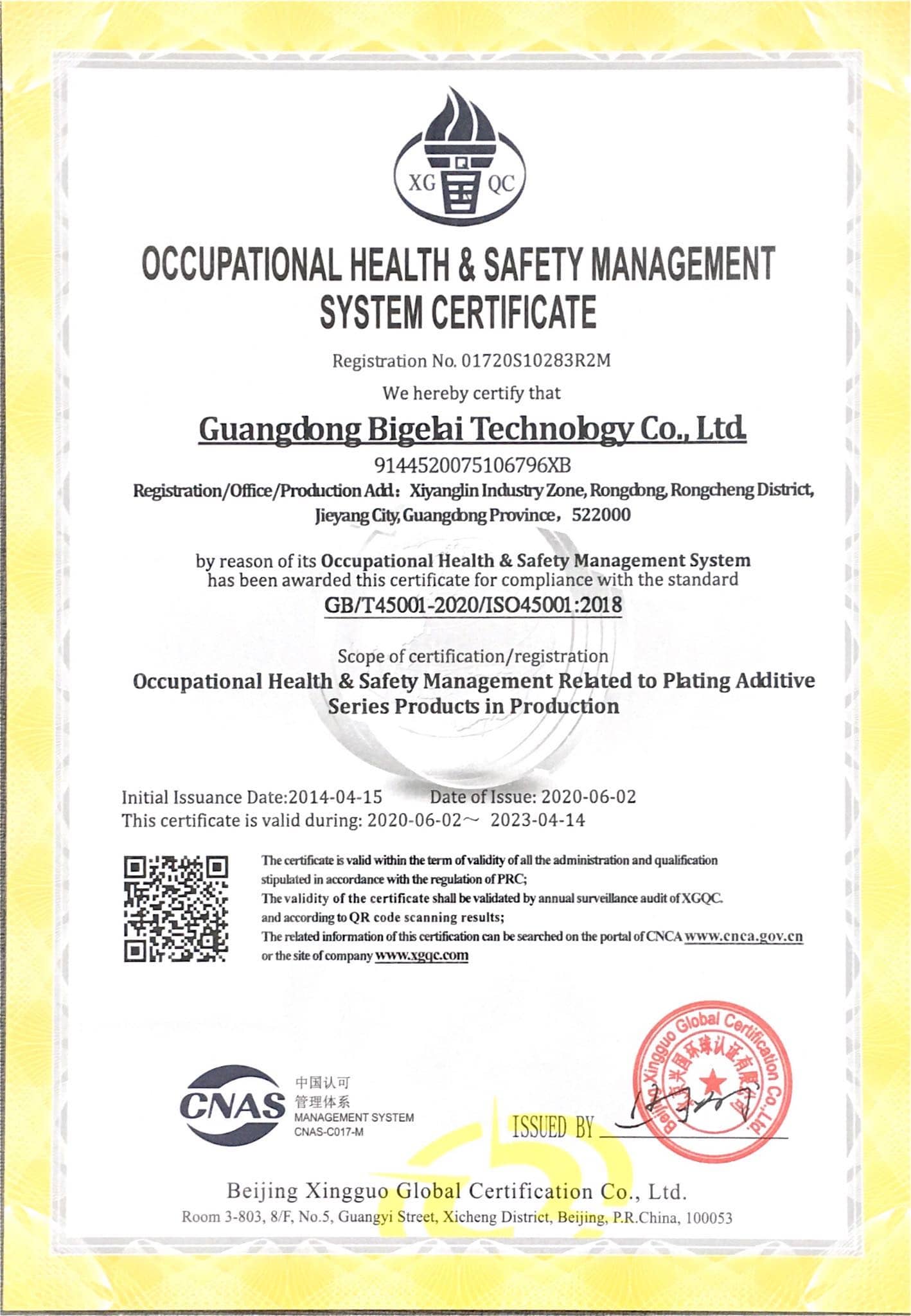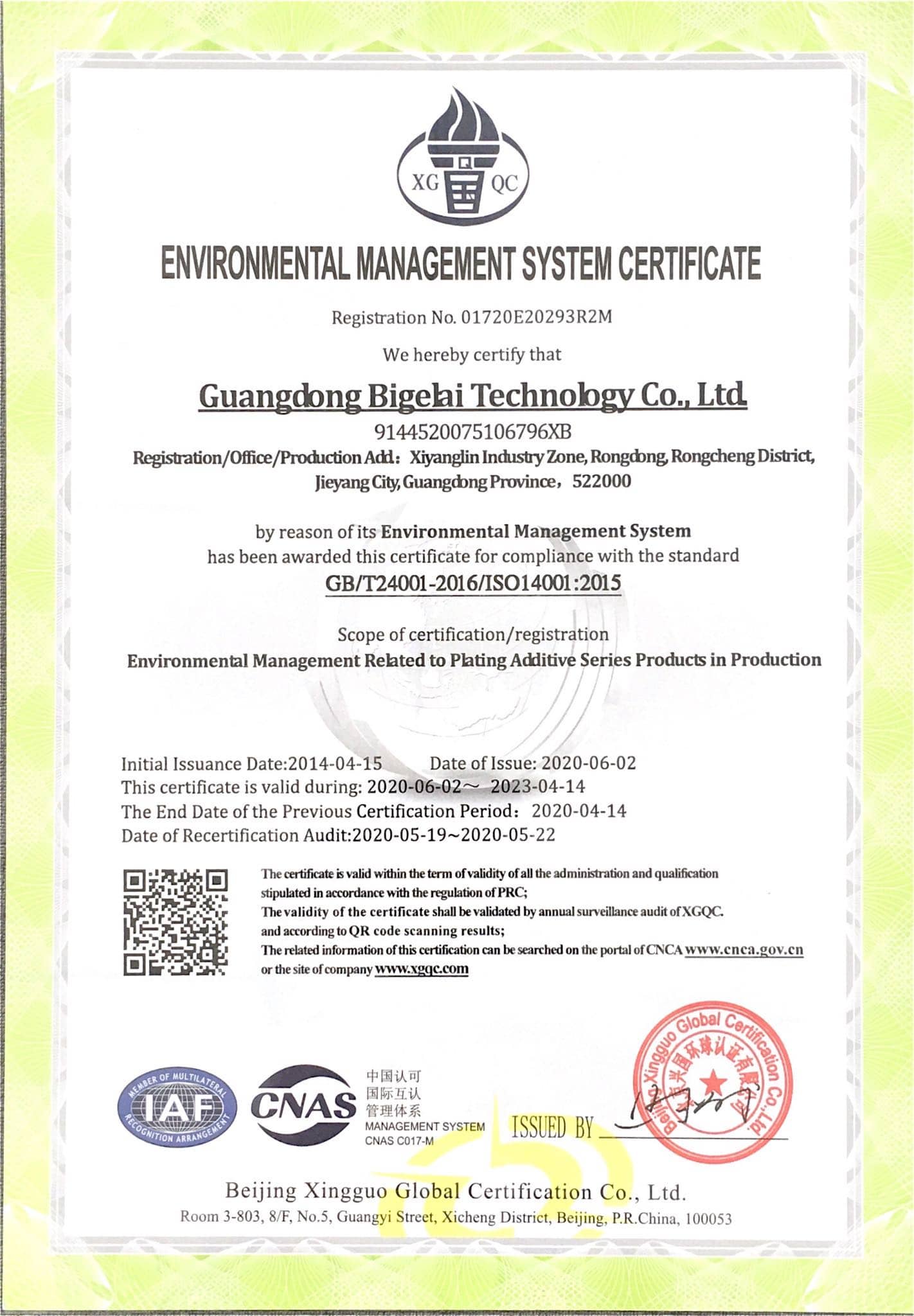 R & D strength
The product formula comes from European and American laboratories, with technica support from European and Americar engineers, and cooperates with domestic niversities; national high-tech enterprises Guangdong academician expert enterprise workstation: Shantou University science and technology commissioner workstation, ieyang Vocational and Technical College Industry-University-Research Cooperation Unit; Jievang Environmental hnologyProtectionlating Additive Engineering Research Center.
Service strength
Strong technical service, many engineers had more than 20 years of working experience in Taiwan and Hong Kong. They can pravide customers with the following services:Pre-sale: Provide related supporting services according to the customer's planned plating kinc and the scale of future plating line development;On sale: During equipment installation, equipmen and surrounding facilities inspection, bulk materia sampling analysis, online and laboratory staff training, testing of various processesAfter-sale: full line SOP formulation and troubleshooting countermeasures, other customer requirements.
Product strength
The core raw materials of the products adopt international brand products Such as BASF in Germany and Dow Chemical in the United States;high purity and few impurities; the production process was strictly implemented in accordance with the requirements of the Is09001 quality management system to ensure the stability of product quality.
Wide range of applications
The products are widely used to meet the needs of electroplating in different industries; the main applications are auto parts, bathroom. electronic products, hardware, furniture, construction accessories and other fields; the products after use can meet environmental protection standards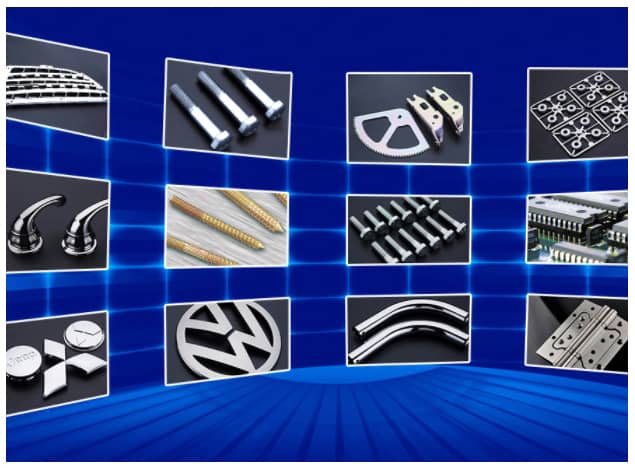 Cooperation brand