Trivalent chromium color zinc water
Zn-228 trivalent chromium color zinc water
Features
High performance, thick film, trivalent chromium plating passivation film.
The pleasing color appearance is unique among high corrosion resistance trivalent chromium passivators.
When used correctly, the NSS time can reach more than 120 hours when the thickness of zinc layer ≧8 micron.
Wide range of operation technology, easy to maintain and control.
It can be operated from low temperature to normal temperature to reduce cost.
It has "self-healing" properties similar to that of hexavalent chromium.
Suitable for alkaline cyanide free galvanizing and acid galvanizing hanging and rolling plating.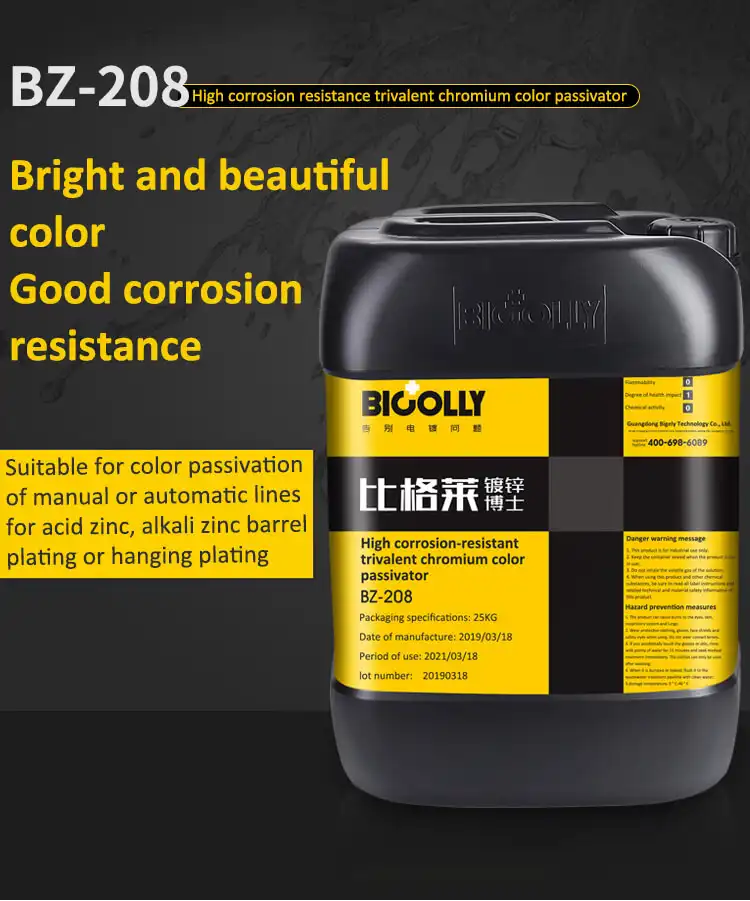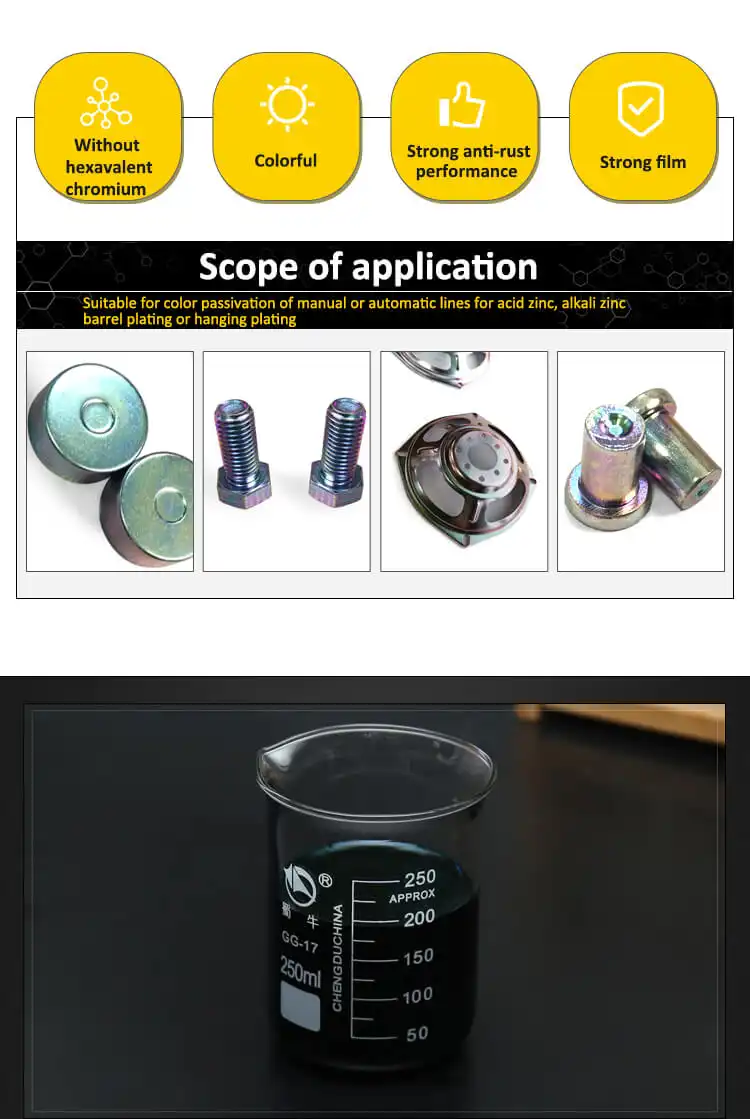 operation
Preparation of passivation solution
Zn-228 trivalent chromium color zinc water 8-10% (volume ratio) standard: 10%
Impregnation time: 30-90 seconds 45-60 seconds
Temperature: 15-40 ℃ 20-30℃
PH value: 1.8-3.5 2.2-2.5
Impregnation time varies according to passivation solution concentration and service life
Maintenance of add
Titration periodically to keep the passivation solution at a normal concentration. If the concentration is appropriate and the pH is high, adjust the pH with a small amount of 50% HNO3.
Analysis steps
1. Take 10ml passivation solution sample and put it into a 100ml flask. Dilute with pure water to 100ml and mix well.
2. Put the diluted solution above 10ml into a 250ml conical flask and dilute it to 100ml with pure water.
3. Add 5ml 20% NaOH and 1ml 35% H2O2.
4. Boil the solution for about 5 minutes.
5. Add 1ml 10% NiCl2 solution and continue to boil for about 2 minutes.
6. Cool the solution to room temperature.
7. Add 10ml concentrated HCl, 1g NH4F, 10ml 10% potassium iodide solution and 2ml starch indicator while mixing.
8. Titrate the solution to clear/green color with 0.1NNa2S2O3.
Calculation:
Zn-228 trivalent chromium color zinc water % = ml 0.1NNa2S2O3*0.419
The standard procedure
1,electroplating
2,Water washing
3,HNO3 light emission (0.5% volume)
4,Water washing
5,soak Zn-228 trivalent chromium color zinc water
6,cold water wash
7,Hot water
8,drying
Iron impurities
Iron impurities affect all high performance trivalent chromium passivation technologies. Iron can cause the passivation film to become yellow, dirty, fade, and reduce protection.
Care must be taken not to let the iron fall into the ZN-228 passivation solution. The processing tank is cleaned once or twice per shift eight hours to prevent the dissolution of falling parts. It should ensure adequate water washing. The leaching liquid before passivation should be frequently dumped and replaced to reduce iron.
Tubular parts should also be emptied of the tube before entering the passivation solution.
prompt
1. It is recommended to presoak the passivation solution with HNO3, especially when alkaline galvanizing, in order to extend the service life of the passivation solution.
2. The pH value of Zn-228 passivation solution can be adjusted with dilute lye and dilute HNO3.
FAQ
1. Q: Do you make the products yourself? Are you a trader or a manufacturer?
A: Yes, the products are produced by our company. Our company is a manufacturer focusing on the R&D and manufacturing of environmental protection electroplating additives. Our factory has 5000 square meters with an annual capacity of 15000 tons.
2. Q: Can your company send samples for trial?
A: We can provide samples for trial.
3. Q: What is the quality of your products?
A: Our company all products core raw materials is used by Germany BASF, American Dow Chemical and other international brand products. The production process is strictly in accordance with the ISO9001 quality management system, from the incoming inspection, product inspection, according to the strict inspection standard, ensure that every drop of products qualified. Product quality you can rest assured, like BYD, Huawei, Foxconn such enterprises are also using our products.
4. Q: How long is the shelf life of your products?
A: The shelf life of our products is two years. If you do not use up the products within a short time after you buy them, we suggest you store them in a cool place, not in the sun or in a high temperature environment.
5. Q: Are your products environmentally safe?
A: Our products have passed the SGS test and are recognized as "Green and Environment-friendly Promotion Products". Many auto parts and electronic products which use our products can pass the strict environmental protection test when they are exported to Europe and America. Therefore, we can be trusted in terms of environmental protection and safety.
6. Q: Can your company provide technical services?
A: Yes, our company has a technical service team of more than 10 people. The technical engineers all have more than 20 years' experience in electroplating factory. They can provide customers with comprehensive technical of pre-sales and after sales.
7. Q: Is it possible to visit your company?
A: Yes, of course. You are very welcome! We can meet you at Jieyang airport, If you can come to our city. Also you can visit our factory through live video.
8. Q: Can you customize products according to our needs?
A: Yes, our company has research and development strength, the product formula derived from Europe and the United States laboratory, European and American engineers technical support, work together with domestic universities. Our company has a member of Guangdong province expert enterprise workstation, Shantou university science and technology correspondent workstation, Jieyang city environmental protection engineering research center for electroplating additive.Therefore, it can meet all kinds of customized requirements proposed by customers.