When we use nickel plating brighteners, we always encounter such a phenomenon: the workpiece is very clean in the pretreatment, but the plating layer has pinholes after nickel plating.So what details in the electroplating process will cause pinholes in the coating?
Bigolly Technology made an analysis based on the field experience and the characteristics of the nickel plating brightener Ni-301,there are four main points:
1. The hydrogen generated during the nickel plating process stays on the surface of the workpiece.If the stirring strength is not enough or the additive content is too low, the hydrogen cannot be precipitated in time, and pinholes will occur.If the stirring force is not enough or the content of the wetting agent is too low, the hydrogen cannot be precipitated in time, and the phenomenon of pinholes will occur.
2. The pollution caused by the oil of the workpiece in the price or polishing process, the unclean stirring air brought into the plating solution, and the decomposition of additives will increase the oily substances in the plating solution.These oil substances will float on the liquid surface and easily adhere to the surface of the workpiece, resulting in pinholes in the coating, which will seriously make the bonding force of the coating poor.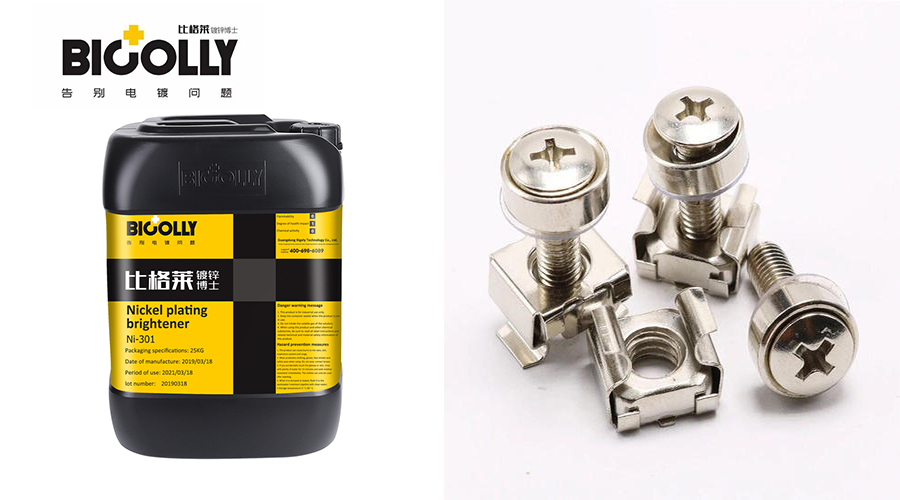 3. Dust falling in the air, rupture of the anode bag lead to sludge entering the plating solution, precipitates caused by excessive impurities such as iron and calcium in the plating solution, and activated carbon particles that are not removed after the plating solution is processed.In the process of nickel plating, due to air agitation, these particles will impact on the surface of the coating, hinder the deposition of the coating and form pinholes.
4. During normal production, the pH value of the plating solution will continue to rise, and the concentration of hydroxide will also continue to increase. If it increases to a certain extent, nickel hydroxide precipitates will be produced.If these precipitates are industrially deposited with nickel, pinholes are likely to occur.
Therefore, we should strengthen the management of the plating solution, the inspection of equipment, and the analysis and adjustment of the composition of the plating solution in the electroplating process using nickel plating brighteners to avoid the occurrence of pinholes.If you are interested in nickel plating brightener, please contact Bigolly customer service, you can get free samples and detailed technical information!
If you want to know more about nickel plating, you can click to view "Electroplating encyclopedia".