When we use alkaline galvanizing additives for barrel plating production, sometimes the coating of the workpiece will have obvious burrs, which will affect the appearance of the workpiece.So where do the burrs of the galvanized layer come from?
Bigolly Technology made an analysis based on the field experience and the characteristics of the product's alkaline galvanizing additives BZ-515,There are four main reasons: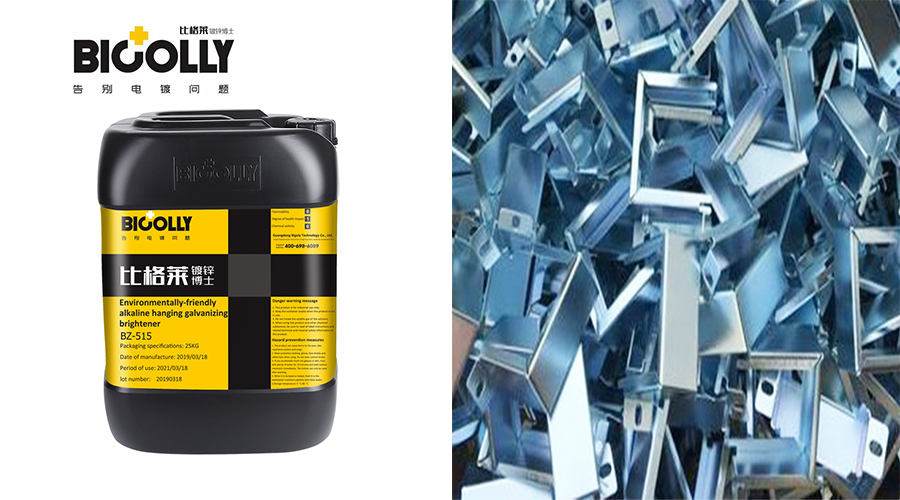 1. The processing problem of the workpiece before electroplating.Some workpieces are not processed well before electroplating, and the workpiece itself has burrs, which will also have burrs after galvanizing.
2. The current density is too large during the galvanizing process.In the production process, if the current density is too large, the high current area of the workpiece will be scorched, so that there will be a burr feeling when you touch it by hand.At this time, after the current density is appropriately reduced, the coating on the surface of the workpiece will gradually become fine and smooth.
3. The influence of solid impurities in the plating solution.Generally, the solid impurities in the plating solution are mainly brought in by the dissolution of the inferior zinc anode.During production, the zinc ions in the plating solution should be obtained by dissolving 0# zinc ingots in a zinc-dissolving tank, rather than obtaining zinc ions by electrolytic zinc.
4. The workpiece itself is magnetic.Some workpieces make the substrate magnetic during processing, and the magnetic field will affect the electric field during the galvanizing process, resulting in obvious burrs on the workpiece after galvanizing.When it is found that the workpiece is magnetic, use a demagnetizer to demagnetize it before galvanizing to ensure that the quality of the galvanized layer of the workpiece is good.
Therefore, we should pay attention to the above four points when using the alkaline galvanizing additive for barrel plating production, which can effectively reduce the phenomenon of burrs on the workpiece, reduce the failure rate and improve production efficiency.If you are interested in alkaline galvanizing additives,please contact Bigolly customer service to get free samples and detailed technical information!
If you want to know more about galvanizing, you can check "common problem".