When we choose potassium chloride galvanizing brightener, we should choose a supplier who cooperates with logistics companies, so that we can ensure that there is enough brightener to use without affecting the progress of production.
Mr. Zhang is the owner of an acid galvanizing factory in Kunming.He contacted a potassium chloride galvanizing brightener supplier when he was replacing the production line, and asked the supplier to ship as soon as possible to arrange production.However, this brightener supplier is not a manufacturer, nor does it cooperate with a logistics company.They chose a logistics company with low shipping costs, which led to Mr. Zhang's site where the batch of brighteners arrived 12 days after the order was placed.During this period, Mr. Zhang urged several times, but the logistics was still very slow, which seriously affected Mr. Zhang's production progress.So Mr. Zhang wanted to change a brightener supplier.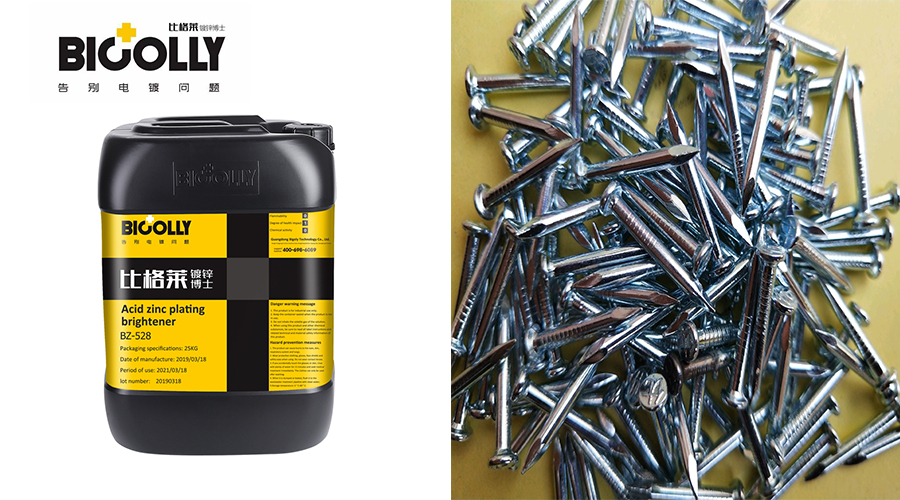 By chance, Mr. Zhang found Bigolly Technology by searching on the Internet, and consulted in detail about the suitable brightener.After understanding the technological process of Mr. Zhang's production line, the engineer recommended Mr. Zhang to use potassium chloride galvanizing brightener BZ-528.The coating of this brightener has a smooth and bright appearance, low brittleness, good stability of the plating solution, and strong impurity resistance, which can meet Mr. Zhang's requirements for decorative galvanizing technology.
Mr. Zhang consulted about the logistics, and the engineer patiently introduced to Mr. Zhang that Bigolly Technology's potassium chloride galvanizing brightener is self-produced, which can ensure sufficient supply.Moreover, Bigolly has a long-term cooperative logistics company, which can ensure that the brightener reaches customers on time.So Mr. Zhang purchased 3 barrels of potassium chloride galvanizing brightener BZ-528, received the logistics order from Bigolly on the same day, and received the 3 barrels of galvanizing brightener on the third day after placing the order.Now Mr. Zhang is an old customer of Bigolly's long-term cooperation.
Therefore, when we choose potassium chloride galvanizing brightener, we should choose a brightener supplier like Bigolly Technology that cooperates with logistics companies to avoid affecting the production progress.If you are also looking for such a supplier of potassium chloride galvanizing brightener,you may contact Bigolly customer service to get free samples and detailed technical information!