What parameters should we pay attention to in order to maintain the stability of the plating solution in the production process of acid tin plating brightener?
Bigolly Technology made an analysis based on the field experience and the characteristics of the product's acid tin plating brightener Sn-807, need to pay attention to these 4 parameters:
1, stannous sulfate.The allowable range of stannous sulfate content is very wide, even if the content is only a dozen grams per liter, it can be plated with color and normal brightness.Therefore, its content is too high or too low, mainly affects the current density, especially for rack plating.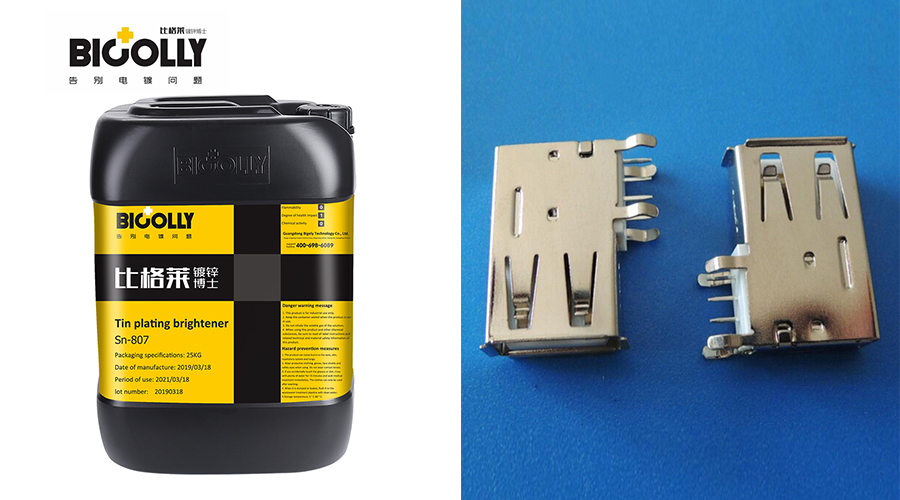 2. Sulfuric acid.Although the allowable content range of sulfuric acid is very wide, it must be carefully controlled.Too high or too low sulfuric acid content is unfavorable for anode dissolution, especially too low, not only make anode passivation, Sn2+ ions are hydrolyzed into Sn4+ ions, so that the performance of the solution is deteriorated, and the brightness of the tin coating is deteriorated.
3. The temperature of the plating solution.The temperature control of the plating solution is lower, which is conducive to the stability of the solution performance and the crystallization of the tin plating layer.When the bath temperature is low, the consumption of brightener is small, and the brightness of the coating is good; when the solution temperature is high, the situation is opposite.
4. Current density.It can be calculated according to the real area of the plated part, and the cathode current density should be controlled at 0.5-3.5 A/dm2. Or, under the premise of observing the liquid level without a lot of bubbles, try to open a large current.
Therefore, we need to pay attention to these four parameters when using acid tin plating brightener to produce, which can effectively maintain the stability of the plating solution and reduce the occurrence of failures.If you are interested in acid tin plating brightener, please contact Bigolly customer service to get free samples and detailed technical information!
If you want to know more about copper plating, you can check "Electroplating encyclopedia".