In the alkaline galvanizing process, sometimes the workpiece is very clean in the pretreatment, but the coating foams after alkaline galvanizing.Is this caused by excessive addition of alkaline galvanizing additives?
Bigolly Technology made an analysis based on the field experience and the characteristics of the product alkaline galvanizing additives BZ-515,When the galvanizing additive is excessive, the brightness of the galvanized layer is good, but the brittleness increases, which leads to the blistering of the coating.But in addition to the reasons for excessive galvanizing additives, there may be the following four situations: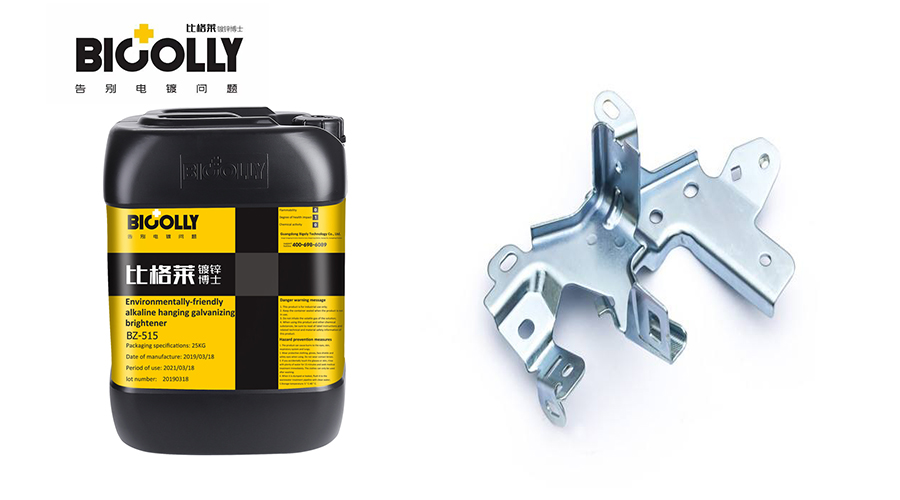 1. Improper use of the hanger.Generally, the hanger used for galvanizing is to weld the hook and the conductive rod together with solder or copper, and then dip plastic, dip paint or wrap it with polyvinyl chloride film.When the wrapping layer is damaged, the weld is easily corroded by the plating solution, and the corrosion products will adhere to the surface of the workpiece, causing the workpiece to produce small bubbles.
2. The operating conditions are not properly controlled.In the process of galvanizing, when the operating conditions are not controlled properly, such as the temperature is too low or the current density is too high, it is easy to cause the coating layer to contain organic impurities and cause blistering.
3. The influence of heavy metal impurities in the plating solution.When the content of heavy metal impurities in the plating solution is high, such as lead, copper and other metal impurities are too high, the galvanized layer contains too much lead, copper and other impurities,The bonding force between the coating and the substrate is poor and the phenomenon of blistering occurs.
4. The influence of post-galvanizing treatment.After the workpiece is galvanized, if the passivation is not handled properly or the cleaning is not thorough, foaming will occur due to the residual passivation solution in the coating.In addition, the temperature and time of the workpiece should be strictly controlled when baking, otherwise it will easily cause the galvanized layer to foam.
Therefore, there are many reasons for the blistering of the alkali zinc layer of the workpiece, not necessarily due to excessive alkaline galvanizing additives, but also pay attention to whether the hanger is in good condition, the control of the plating solution, and the correct operation of the post-processing process.If you are interested in alkaline galvanizing additives,please contact Bigolly customer service, you can get free samples and detailed technical information!
If you want to know more about galvanizing, you can click to view "Industry news".