In the process of galvanizing production, after color passivation of galvanized workpieces in some factories, the color of passivation film is always not red enough. What should we do? Try this color zinc passivator.
Mr. Cui is the boss of a zinc plating factory in Qingdao, Shandong Province.Mr. Cui's galvanized workpieces have always been passivated with color zinc passivator, and the light yellow workpieces can barely meet the customer's requirements.Recently, many customers have requested that the workpiece be passivated to a reddish appearance. However, Mr. Cui has repeatedly adjusted the passivator and failed to passivate the reddish appearance required by customers.Therefore, Mr. Cui wants to replace a qualified color zinc passivator.
One day, Mr. Cui saw Bigolly's color zinc passivator BZ-207 when searching on the Internet, and inquired about the characteristics of this passivator and the effect picture of the product.After introducing the product features, the engineer provided the effect picture of the product.Mr. Cui compared the product renderings and determined that it was the reddish appearance that his customers wanted, so he decided to buy a small amount for trial.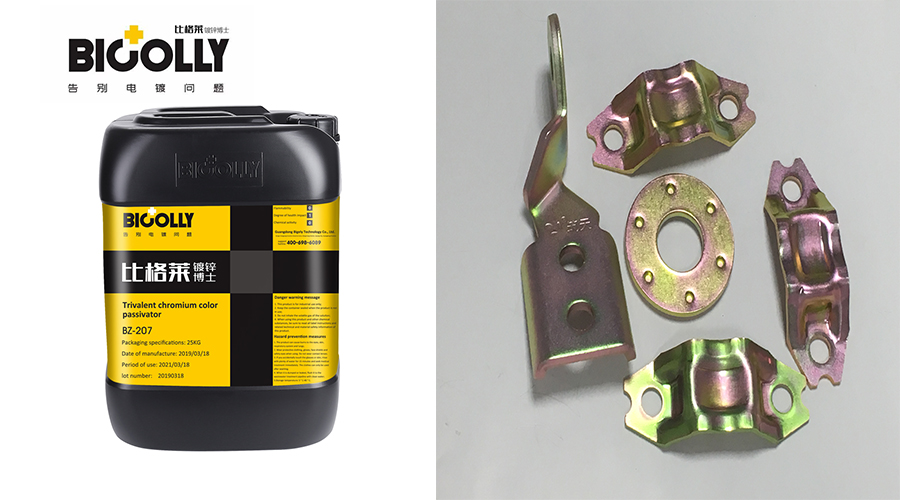 Under the guidance of the engineer, after Mr. Cui tried this color zinc passivator, the workpiece has a reddish color appearance, the color is uniform and bright, and the passivation film has good adhesion,Moreover, the corrosion resistance of the workpiece is excellent. Previously, the neutral salt spray test for galvanized workpiece was less than 48 hours, but now it can easily pass the 96 hour salt spray test, greatly improving the salt spray resistance.Therefore, Mr. Cui signed a long-term cooperative purchase and sales contract with Bigolly.
Therefore, if the passivation film of our color zinc workpieces cannot achieve the reddish appearance that customers want, we might as well try this color zinc passivator BZ-207.If you are interested in this color zinc passivator, please contact the Bigolly customer service for free samples and detailed technical information!