Mr. Li is the boss of a rolling tin plating factory for electronic components.When Mr. Li's diode workpiece was tinned some time ago, due to the use of the sulfuric acid system tin plating process, the workpiece was immersed in the plating solution for a long time during the barrel plating process, which led to the glass part of the diode being corroded and could not be used normally.So Mr. Li wanted to find a tin plating additive that would not corrode the glass.
One day, Mr. Li found Bigolly Technology by searching "Tin Plating Additive Manufacturer" on the Internet.After a detailed understanding of the company, Mr. Li asked if there was any tin plating additive suitable for his use.The engineer recommended Mr. Li to use this neutral tin plating additive Sn-830 after knowing the production process and production situation of Mr. Li in detail.
This tin plating additive is made by adopting the innovative technology of Bigolly.The work piece can obtain a silver white tin coating which is not easy to be oxidized, and the tin coating has excellent solderability, heat resistance and adhesiveness.In addition, the near neutral plating solution can reduce the erosion of ceramic and glass materials, and the workpiece is not easy to change color after being stored for a long time, which is very suitable for the tin plating production of Mr. Li's diode.After Mr. Li learned about it, he was very interested in this tin plating additive, so he bought a small amount to try.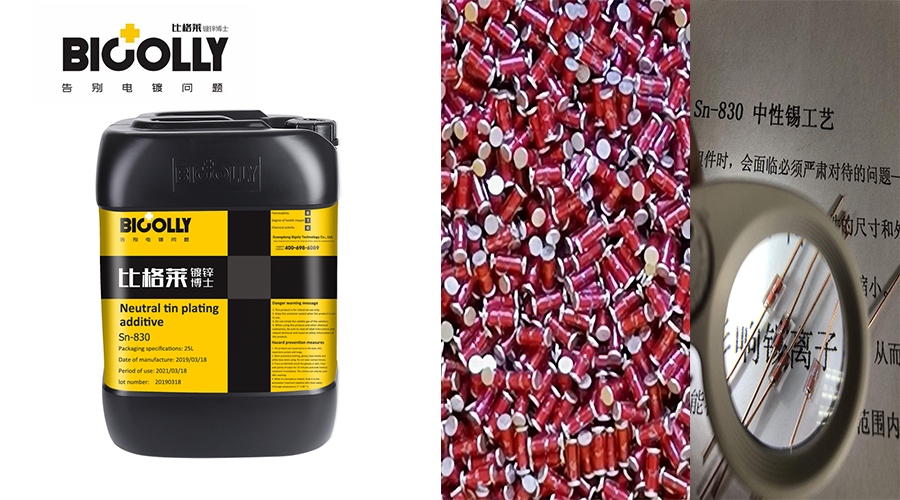 Under the guidance of the engineer, after Mr. Li used this tin plating additive, the tin coating of the diode is dense enough, with good solderability and heat resistance, which can meet the normal use of the diode.In addition, the plating solution is close to neutral and will no longer corrode the glass part of the diode, which can greatly improve the product quality requirements, reduce the defective rate of products, and effectively save production costs.So Mr. Li signed a long-term cooperative purchase and sales contract with Bigolly.
Therefore, the glass part of diode is easy to be corroded during tin plating. Try this neutral tin plating additive Sn-830.If you also want to find such a neutral tin plating additive that will not corrode the glass, you can contact the Bigolly customer service for free samples and detailed technical information!