In our galvanizing production process, sometimes the coating is prone to fogging after passivation of the workpiece, which will seriously affect the appearance and performance characteristics of the coating.So how should we use the galvanized trivalent chromium passivator correctly to avoid fogging of the passivation film of the workpiece?
Bigolly Technology made an analysis based on the field experience and the characteristics of the product galvanized trivalent chromium passivator BZ-212,There are four main points: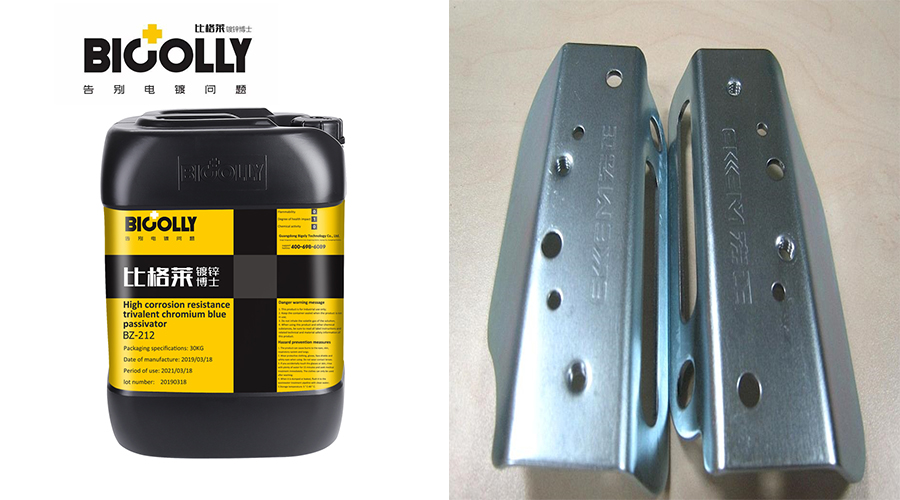 1. Check whether the coating is fogged when the workpiece is galvanized.If the coating of the workpiece has been fogged when galvanizing, the passivation treatment is carried out at this time, and the passivation film cannot be covered, especially the blue-white passivation, and the salt spray blue-white passivation film is relatively thin.Therefore, the galvanized quality of the workpiece should be checked and improved to ensure that the quality of the galvanized coating on the workpiece is good.
2. The bright dipping solution needs to be replaced after multiple uses.In addition to cleaning the organic residue or residual alkali on the surface of the workpiece, the bright dipping solution also has the effect of polishing.When the bright dipping solution becomes turbid due to many impurities after being used for many times, it should be replaced with a new bright dipping solution in time to keep the workpiece with good bright dipping effect.
3. Control the concentration of zinc and iron impurities in the passivation solution.Generally, the zinc impurity concentration in the passivation solution should be lower than 5g/L, and the iron impurity concentration should be lower than 50ppm.If the impurity concentration is high, the passivation film is easy to flower and fog, and it will also affect the salt spray resistance of the workpiece.In the production process, the workpieces falling in the passivation tank should be salvaged frequently to prolong the service life of the passivation solution and improve the salt spray resistance of the workpieces.
4. Try not to use lye to adjust the pH of the working solution during use.In the production process, sometimes the pH value of the working solution is low, and some people will use lye to increase the pH value of the working solution.However, the passivation solution is prone to blooming and fogging, and the corrosion resistance of the passivation film is poor.
Therefore, when we can use the galvanized trivalent chromium passivator correctly, it can effectively reduce the fogging of galvanized workpieces after passivation, improve production efficiency and save costs.If you are interested in trivalent chromium passivator for galvanized trivalent chromium passivator,please contact Bigolly customer service, you can get free samples and detailed technical information!
If you want to know more about galvanizing, you can click to view "Industry news".