A friend inquired that their production line is galvanized for auto parts, and the corrosion resistance of the workpiece is always poor.His friend introduced his production process of using alkaline zinc-nickel alloy additive.What are the differences between the two production processes?
According to the site experience and the characteristics of the product alkaline zinc-nickel alloy additive BZ-617, Bigolly Technology has analyzed the following three points:
1. Product appearance.Generally, the color of the zinc-nickel alloy color passivation film is not as bright as that of the zinc coating, and the higher the nickel content in the alloy layer is, the more obvious it is.The color of white passivation film of zinc-nickel alloy is not as white as that of zinc coating.With the increase of Zn-Ni alloy additives in the market today, people have been able to accept the color difference between Zn-Ni alloy passivation film and galvanized passivation film.
2. Corrosion resistance.Zn-Ni alloy coating is far better than alkaline zinc coating in corrosion resistance.It is tested that the zinc-nickel alloy coating obtained by using Bigolly's zinc-nickel alloy additive BZ-617 can pass the neutral salt spray test after passivation treatment for more than 300 hours without white rust.However, the alkaline zinc coating can only pass the neutral salt spray test for 120 hours even though it has been color passivated with good corrosion resistance.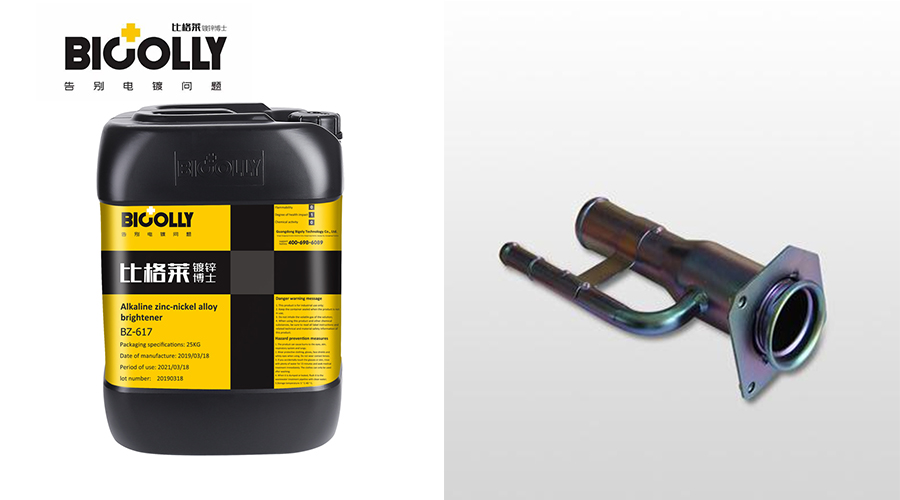 3. Production costs.Because zinc nickel alloy coating contains about 13% nickel, the price of nickel is much higher than that of zinc, so the production cost of alkaline zinc nickel alloy electroplating is much higher than that of zinc electroplating.
Therefore, this is the difference between the production process using alkaline zinc-nickel alloy additive and alkaline zinc plating production process, which can enable us to better choose our own production process.If you are interested in alkaline zinc-nickel alloy additives, please contact Bigolly customer service for free samples and detailed technical information!
If you want to know more about zinc-nickel alloy plating,you can check "Industry News".