Mr. Dong from Linyi, Shandong is the owner of a nickel-plating factory.When Mr. Dong's hinge workpiece is produced with barrel nickel brightener, although there is a slight blackening phenomenon in the low current area of the coating, the customer can barely accept it.Recently, a customer has a batch of battery shell workpieces that yellow and rust in the low current area after barrel nickel plating, which makes the customer very dissatisfied.So Mr. Dong wanted to find a barrel nickel plating brightener with good deep plating ability.
One day, Mr. Dong saw Bigolly's barrel nickel plating brightener Ni-117 while searching on the Internet, and learned about the operating parameters and supplementation of this brightener in detail.Although Mr. Dong knew that this brightener has the characteristics of fast light output and good deep plating ability in low current area, he is still not sure whether it is suitable for the nickel plating requirements of this battery shell workpiece.So Mr. Dong asked if he could make a sample first, and then use this nickel-plated brightener after the sample workpiece passed the test.
So Bigolly engineers proofed the workpiece according to Mr. Dong's production process and workpiece requirements, and sent it back to Mr. Dong.The coating color of these battery shell workpieces is full and bright, and the thickness of the high and low areas of the workpiece is within the range required by customers. The nickel layer on the inner wall of the shell with a depth of 5cm is uniform, and there is no blackening phenomenon.Mr. Dong was very satisfied with the nickel-plating effect of the workpiece, so he ordered 10 barrels of nickel-plated brightener Ni-117, and asked the engineer to help guide the production.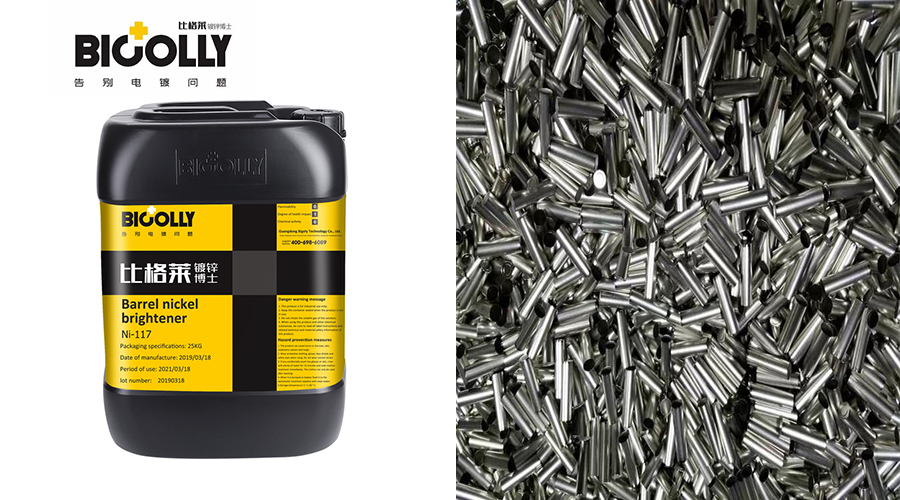 Now, the nickel plating layer of Mr. Dong's battery shell workpiece is very uniform, and there is no yellowing phenomenon.This nickel plating brightener Ni-117 is really suitable for the barrel nickel plating requirements of battery shell workpieces, and the stability of the plating solution is good, and the product defect rate is reduced to less than 0.5%, which effectively saves production costs.
Therefore, in the production process of barrel nickel plating, the coating of the battery shell is prone to yellowing and rusting. Try this barrel nickel plating brightener Ni-117.If you are also looking for such a barrel nickel plating brightener with good deep plating ability, you may contact Bigolly customer service to get free samples and detailed technical information!