Mr. Liu from Xingtai, Hebei is the owner of a top ten electroplating factory in the local area.His production line is mainly for the processing and production of auto parts.His auto parts need to have good adhesion and corrosion resistance after galvanized black passivation.Recently, the black passivation film of Mr. Liu's auto parts is easy to fall off after baking, resulting in poor corrosion resistance of the workpiece. Therefore, Mr. Liu wants to replace a trivalent chromium black passivator with good binding force.
Mr. Liu found Bigolly's black passivator BZ-216 by searching the Internet for "trivalent chromium black passivator", and consulted engineers in detail about the characteristics of this product.After understanding Mr. Liu's performance requirements for the workpiece, the engineer recommended Mr. Liu to use this passivator BZ-216 with the sealer.Passivator BZ-216 can produce a dense black passivation layer on the galvanized layer of the workpiece, which can ensure that the coating of the workpiece has a good bonding force;When used together with a sealer, the workpiece can pass the neutral salt spray test for more than 72 hours, which fully meets Mr. Liu's performance requirements for auto parts.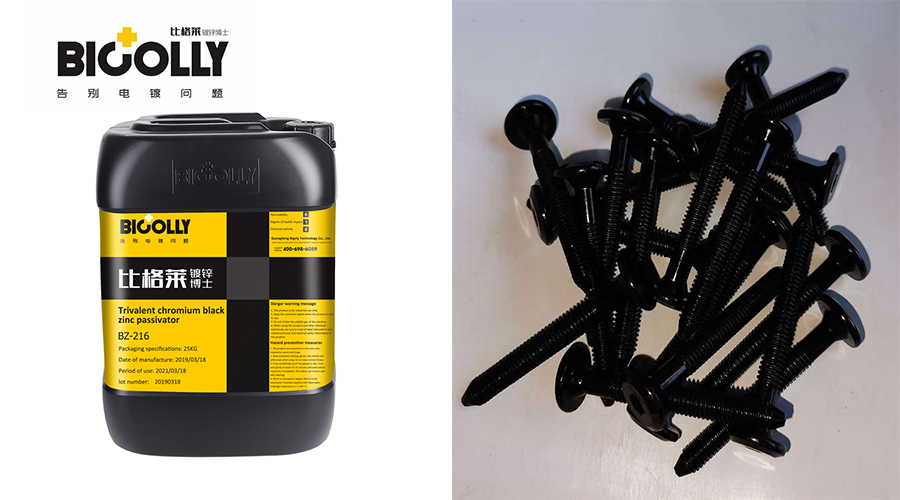 Mr. Liu compared several BZ-216 renderings. After consulting the product price, he directly purchased 1 barrel of passivator BZ-216 and 1 barrel of sealer.A week later, Mr. Liu replied that after using this black passivator, the appearance of the workpiece is darker and brighter than before, and the coating will not be peeled off again. The salt spray performance of the workpiece is good, and the customers are satisfied.So Mr. Liu and Bigolly signed a purchase contract.
Therefore, auto parts are easy to peel off after galvanized black passivation and have poor corrosion resistance. You can try Bigolly's trivalent chromium black passivator BZ-216 to ensure that it can meet the performance requirements of the workpiece.If you are also looking for such a trivalent chromium black passivator with good binding force,please contact Bigolly customer service to get free samples and detailed technical information!