Mr. Wu's company is a company engaged in the production of mechanical equipment and electroplating.They have relatively high requirements on the coating of the workpieces produced, and the bearing workpieces they have recently produced have poor adhesion of the coating after using electroless nickel plating solution.The potion supplier went to the site to adjust the plating solution several times, but the adhesion of the workpiece coating was still very poor and could not pass the adhesion test.
So, Mr. Wu found Bigolly Technology by searching for "electroless nickel plating solution with good binding force",and consulted the use parameters, deposition rate, throwing ability and anti-rust ability of this electroless nickel plating solution Ni-809, as well as hardness and bonding force.Mr. Wu chatted in detail for more than an hour, and expressed his interest in Bigra's electroless nickel plating solution.When Mr. Wu knew that Bigolly could still provide the service of workpiece proofing, he made an appointment with Bigolly's engineers to come to the site for proofing.
Mr. Wu brought 12 workpieces to Bigolly for a proofing test. The engineer guided the use process of electroless nickel plating solution and the precautions for each process on the spot.After that, the engineer performed it on site. Mr. Wu said that the deposition speed and appearance color of the coating were better than the potions he used before.Mr. Wu also operated it himself, and measured the thickness of the coating on the spot. The difference in thickness was within 0.5μm. Mr. Wu expressed his satisfaction.So, Mr. Wu brought 6 workpieces and a small amount of electroless nickel plating solution samples back for testing.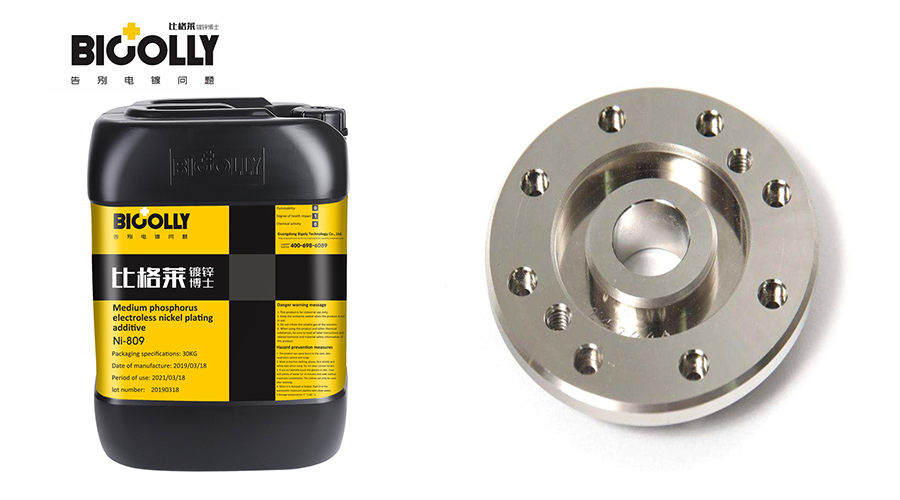 A week later, Mr. Wu replied that the workpiece had passed the hardness test and bonding force test, and the service life of the electroless nickel plating solution was 3 cycles longer than the one he used before, and he was very satisfied with this.After that, we provided Mr. Wu with relevant SGS, RoHS and other testing reports and certificates. Mr. Wu signed a long-term cooperation purchase and sales contract on the same day.
Bigolly Technology adheres to the business philosophy of "technological innovation, service-oriented", and provides customers with new products and solutions with systematic technical support and perfect service system,with excellent products and services, it has won the recognition and trust of domestic and foreign customers.If you are also looking for an electroless nickel plating solution with good coating adhesion, you may wish to contact Bigolly customer service to obtain free samples and detailed technical information!