Mr. Feng is the owner of a tin surface treatment factory in Dongguan.Recently, Mr. Feng's tin-plated workpieces were always complained by customers that the coating of the workpieces changed color or darkened within 3 minutes of high-temperature soldering, which seriously affected the functional application of the workpieces.In order to retain these customers, Mr. Feng urgently wants to replace a matte tin plating additive that will not change color.
One day, Mr. Feng saw the matte tin plating additive Sn-808 of Bigolly Technology while searching online, so he inquired in detail about the characteristics of this additive and whether it would change color or darken when soldering at high temperature.The engineer said that the matte tin plating additive was prepared with imported raw materials.The workpiece can obtain uniform and dense fog tin coating, with excellent walking performance and welding performance, and the workpiece coating is not easy to change color. It can pass the high-temperature aging test of baking at 180 ℃ for 2 hours, and the effect of using with tin protector is better.Mr. Feng was very interested in this feature, so he directly bought a barrel of matte tin plating additive to try.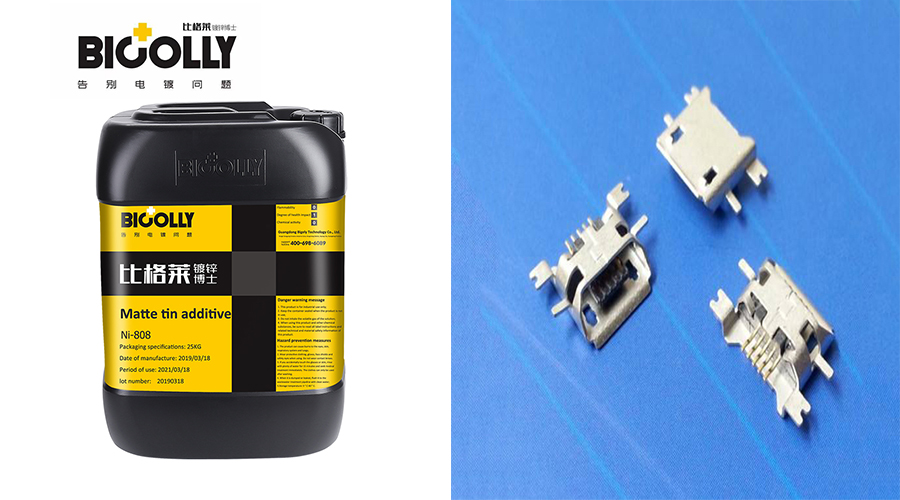 Under the guidance of the engineer, Mr. Feng used this matte tin plating additive Sn-808.Now the workpiece has a uniform appearance, is not easy to adhere to dust and fingerprints, and has good weldability and corrosion resistance.Mr. Feng said that after steam and heat treatment, the customer will not discolor or darken the workpiece, the defective rate of the workpiece will be greatly reduced, and the production efficiency will be effectively improved.Therefore, Mr. Feng placed an order again and signed a cooperation agreement with Bigolly.
Therefore, in the production process, when the coating of the misted tin workpiece is prone to discoloration or darkening when soldering at high temperature, we might as well try this matte tin plating additive Sn-808 to effectively improve the production efficiency.If you are interested in this matte tin plating additive, you may contact Bigolly customer service for free samples and detailed technical information!