In daily life, many iron workpieces are easy to rust, and after using electroless nickel plating solution to deposit chemical nickel layer, these workpiece iron materials have the ability to prevent rust,some will not rust after a few years.
Mr. He is the owner of a hardware factory. Their products are mainly iron workpieces, and there is a problem with these iron parts, that is, they are easy to rust.By chance, Mr. He saw Ni-809, an electroless nickel plating solution from Bigolly Technology, and was very interested.So Mr. He called Bigolly's engineers to learn more about how the potion was used, what the process was like, the equipment required for production and the issue of wastewater discharge.After the engineer's introduction, Mr. He thought to buy a set of electroless nickel plating solution Ni-809 to try.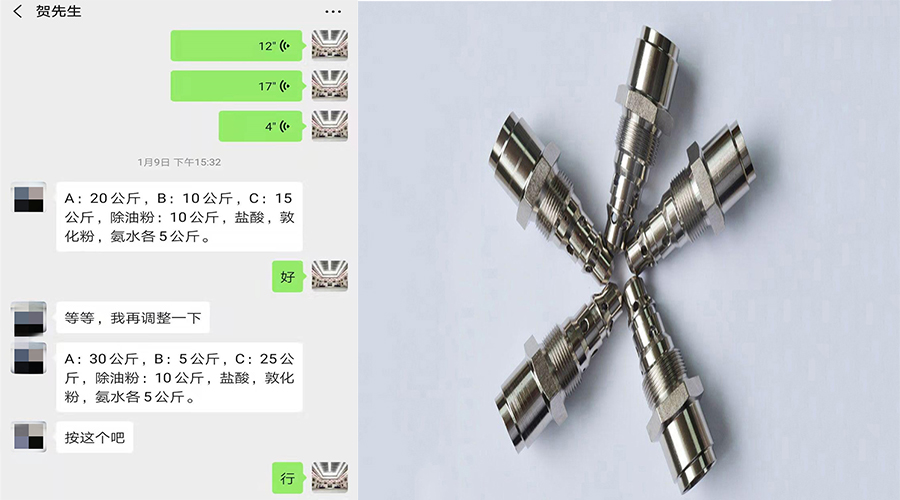 Since Mr. He has not done electroplating, he does not know the process parameters.The Bigolly engineer patiently instructed Mr. He how to configure the plating solution, how to replenish the concentrated solution, and how to control the pH value of the plating solution over the phone.The coating of the workpiece produced by Mr. He through his own operation is uniform and bright, and it is very beautiful.And two workpieces have been plated for two months, the appearance is still very bright, and there is no rust phenomenon.Mr. He is very satisfied with this electroless nickel plating solution Ni-809, and now he will order it every week.
Therefore, if you are still worried about the easy rusting of iron workpieces, try this electroless nickel plating solution Ni-809 from Bigolly Technology.If you are also looking for an electroless nickel plating solution with good coating adhesion, you may wish to contact Bigolly customer service to obtain free samples and detailed technical information!