In recent years, the tin plating process has been rapidly promoted in the electronic industry, and the requirements for the weldability of workpieces are becoming higher and higher.Some workpieces have poor welding performance of tin coating after using tin plating additives, which will greatly increase the failure rate due to welding quality problems.So what factors will affect the welding performance of the coating?
According to the field experience and the characteristics of Sn-807, a product tin plating additive, Bigolly Technology has analyzed the following five points:
1. Excessive brightener for tin plating.When the brightener in the plating solution is excessive, the polarization will be enhanced, and there will be a lot of hydrogen evolution in the electroplating process.However, Sn4+ in the plating solution is hydrolyzed into stannic acid, which will form colloid with the decomposition products of brightener, making the plating solution turbid, thus reducing the current efficiency of the cathode. The coating is easy to be mixed with organic matters, leading to the decline of welding performance.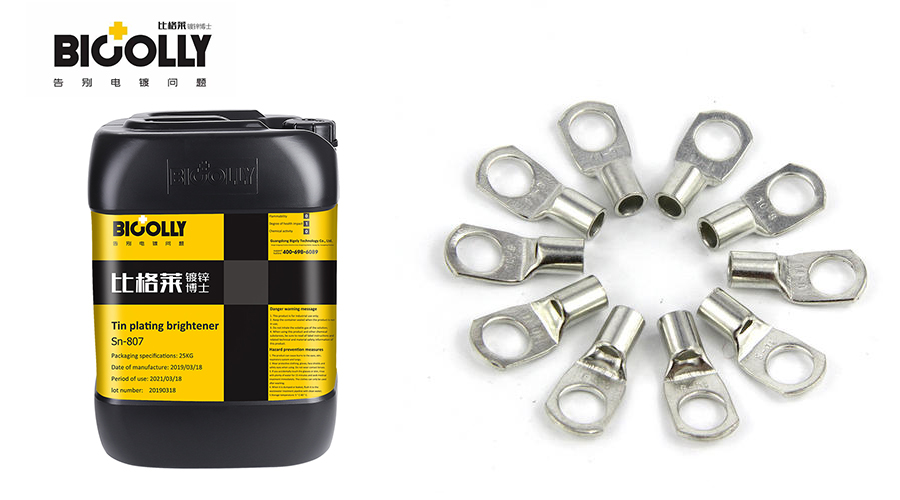 2. There are too many Fe2+ ions in the plating solution.Fe2+ in the bath will be oxidized to Fe3+, and the oxidizability of Fe3+ will oxidize Sn2+ to Sn4+.The hydrolysis of Sn4+, together with Sn2+ and organics, will form a micellar structure, which will cause the plating solution to become turbid and affect the welding performance of the coating.
3. The bath temperature is high.The high temperature of the bath will accelerate the hydrolysis of Sn4+, leading to the deterioration of the state of the bath, thus affecting the welding performance of the coating.
4. The coating thickness is too thin.As copper based tin plating or steel based tin plating after copper plating, tin and copper will penetrate each other to form alloy diffusion layer. When the coating is too thin or uneven in thickness, the welding performance of the coating will be affected.
5. The workpiece is placed for a long time.The weldability of the newly produced workpiece coating is very good, but after a long time (about 2 months), the weldability of the coating will become poor, which is mainly caused by the oxidation of the workpiece surface in the air.
Therefore, when using tin plating additives, we should pay attention to these five factors that affect the welding performance of the workpiece coating, strengthen the maintenance and management of the plating solution, and reduce the loss caused by failures.If you are interested in tin plating additives, please contact the Bigolly customer service for free samples and detailed technical information!
If you want to know more about tin plating, you can click to view "Common problem".