In the production process of our electroless nickel plating, some workpieces have poor resistance to salt spray and cannot meet customer requirements.At this time, high-phosphorus electroless nickel plating additives can be used to effectively improve the corrosion resistance of the workpiece coating.
Mr. Jiang's owner of a hardware factory in Shenzhen, his parts are mainly 1.5mm thick cold-drawn iron sheet stamping parts.Some time ago, Mr. Jiang's workpiece was mainly electroplated with nickel.However, since the salt spray test can only last 8 hours after the workpiece is nickel-plated, and the salt spray can barely last 24 hours after the oily sealing treatment, the workpiece fails to meet the customer's salt spray requirements.
One day, Mr. Jiang saw Bigolly Technology's high-phosphorus electroless nickel plating additive Ni-811 while searching the Internet, so he consulted engineers about the details of this product.Mr. Jiang was very interested in this additive, so he purchased a sample.After Mr. Jiang's proofing, the coating of the workpiece is very uniform, and the hardness of the coating is very high. When the thickness of the coating is 4.5 microns, the hardness reaches 500HV, and the hardness after heat treatment can reach more than 850HV.Mr. Jiang is concerned about corrosion resistance, and the workpiece is still not rusted after 140 hours of neutral salt spray test.So Mr. Jiang purchased Bigolly's high phosphorus electroless nickel plating additive.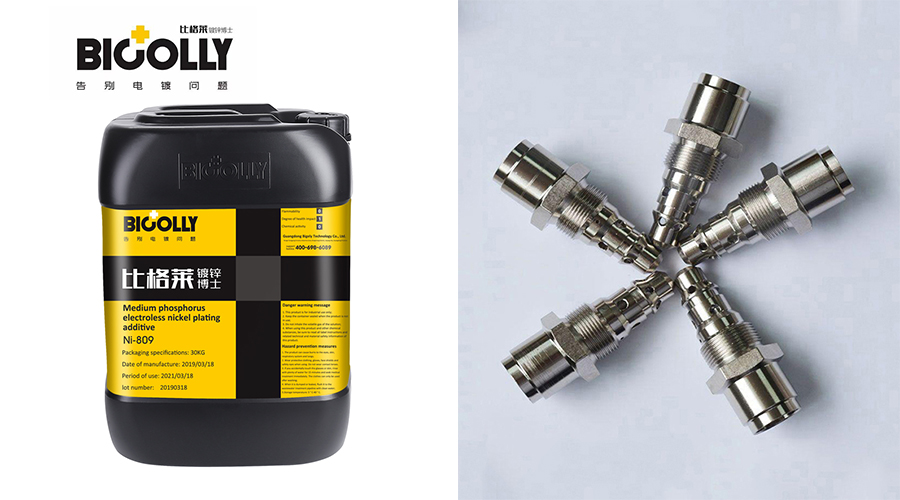 Now Mr. Jiang's parts are produced by himself, the appearance of the parts is uniform and bright, and the coating hardness and salt spray resistance are very good, which also brings a lot of new business to Mr. Jiang.
Therefore, when our nickel-plated parts have poor salt spray resistance, try this high-phosphorus electroless nickel plating additive Ni-811 from Bigolly.If you are also looking for a high-phosphorus electroless nickel plating additive with good salt spray resistance,please contact Bigolly customer service to obtain free samples and detailed technical information!