Mr. Zhang is the owner of an electroplating tin processing factory in Xuzhou, Jiangsu.Some time ago, in the production process of bright tin plating of a batch of precision hardware, the coating always appeared foggy and not bright.The brightener supplier did not solve the problem after processing the plating solution, which seriously affected the appearance and performance of the workpiece, and the customer did not accept it.This gave Mr. Zhang a headache, so he wanted to replace a better-performing sulfate tin plating brightener.
One day, Mr. Zhang saw Bigolly's sulfate tin plating brightener Sn-807 while searching on the Internet, and inquired in detail about the stability of this brightener and whether there was fogging.According to the engineer, some tin-plating brighteners on the market contain a large amount of organic matter. Even if the plating solution is frequently processed, the brighteners have more decomposition products.These organic substances will be mixed in the coating layer, which will affect the normal adsorption of tin-plating brighteners, and cause the coating layer to be prone to fogging and not brightening.
And Bigolly's sulfate tin plating brightener Sn-807 adopts a new technical formula, using raw materials from BASF in Germany and Dow Chemical in the United States.It can ensure that the plating solution has good stability in the production process, and the decomposition products of the brightener are few, so that the long-term production of the workpiece coating can keep full and bright, and the workpiece coating has good ductility and weldability.So Mr. Zhang wanted to buy a set of tin-plating brightener to go back to open a small slot for testing.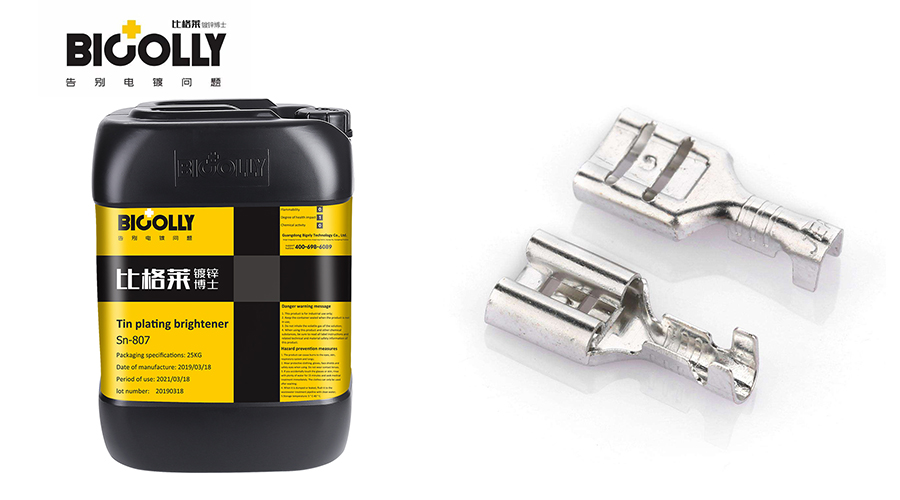 Ten days later, Mr. Zhang happily opened the phone and said that since the use of this tin plating brightener Sn-807, the appearance and performance quality of the coating have been improved significantly.The coating is always uniform and bright, and there is no fogging phenomenon, which is very suitable for the tin-plating processing and production of high-end products such as precision hardware.So, Mr. Zhang placed another order and signed a long-term purchase and sales contract with Bigolly.
Therefore, after the workpiece is plated with bright tin, the coating is easy to fog and not bright, so try this sulfate tin plating brightener Sn-807.If you are also looking for such a sulfate tin plating brightener, you may wish to contact Bigolly customer service, you can get free samples and detailed technical information!