Plastic electroplating hydrophilic agent
PL-1 Plastic Electroplating Hydrophilic Agent
Overview
PL-1 plastic electroplating hydrophilic agent (plastic electroplating surface finishing agent) is specially used in the first process of chromic acid roughening solution for plastic electroplating. After adding , it will make the plastic surface more hydrophilic, which is beneficial to the subsequent chromic acid roughening solution. more uniform corrosion, especially not in the fracture, and hidden deep connection ; it can also be of the chromate roughened protect solution, and can extend its life.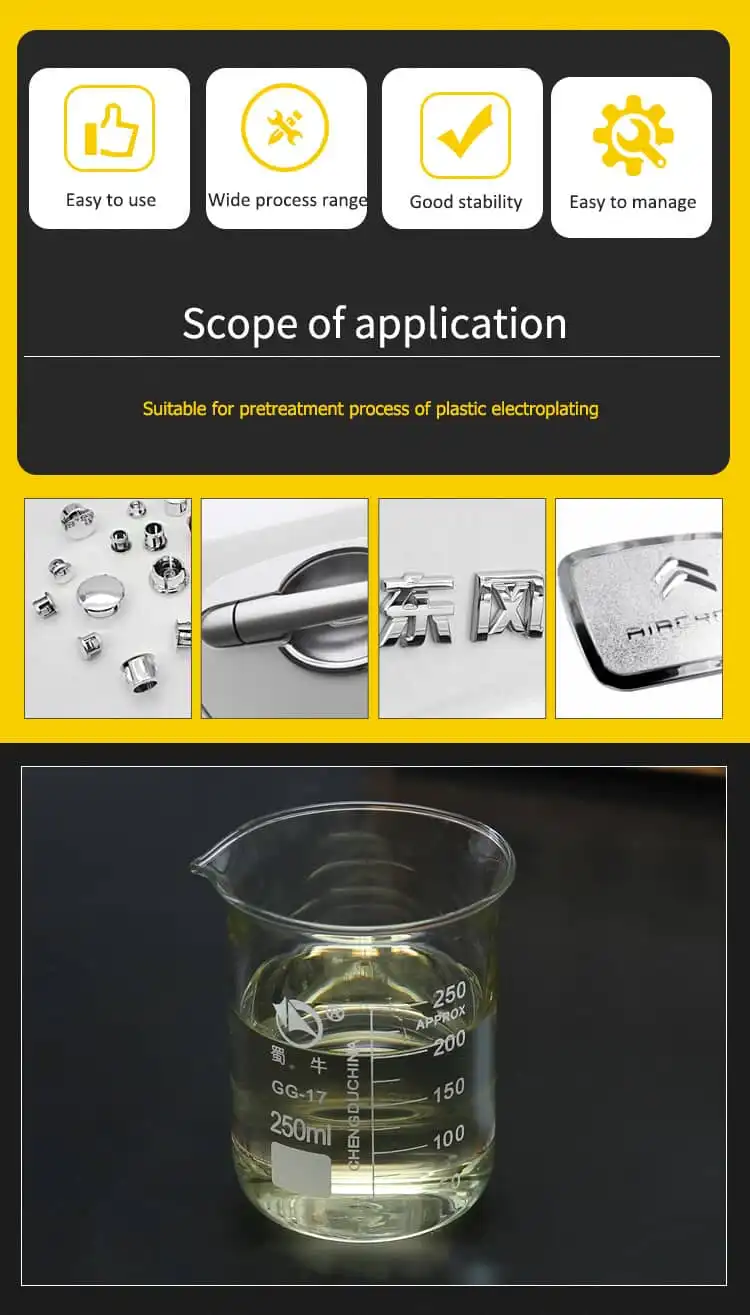 Features and uses
1. Wide operating range, not easy to damage the substrate;
2. Effectively improve the hydrophilicity of the surface of the workpiece;
3. Effectively reduce the defect rate of coarsening and electroless plating processes;
4. Simple maintenance and management, easy to operate.
Solution composition and operating conditions
| | |
| --- | --- |
| PL - 1 Hydrophilic Agent | 40-60ml/L |
| sulfuric acid | 200-400g/L |
| time | 1-3 minutes |
| temperature | Room temperature-50℃ |
The method of matching cylinders
Plastic tank by adding 1/2 open cylinder volume of water, and then carefully add the desired amount of reagent grade sulfuric acid slowly slowly added and stirred, the temperature rises when the aqueous solution of sulfuric acid was added, then add the required amount of the PL-1 , And then add water to the required level, the working solution is ready.
Maintenance
Sulfuric acid reagent was added when , simultaneously added PL-1 hydrophilizing agent;
Add a ratio of: sulfuric acid reagent: PL-1 hydrophilizing agent = volume 2 - 4 : 1